Hunter Dickinson and top-ranked Kansas beat Chaminade 83-56 at Maui Invitational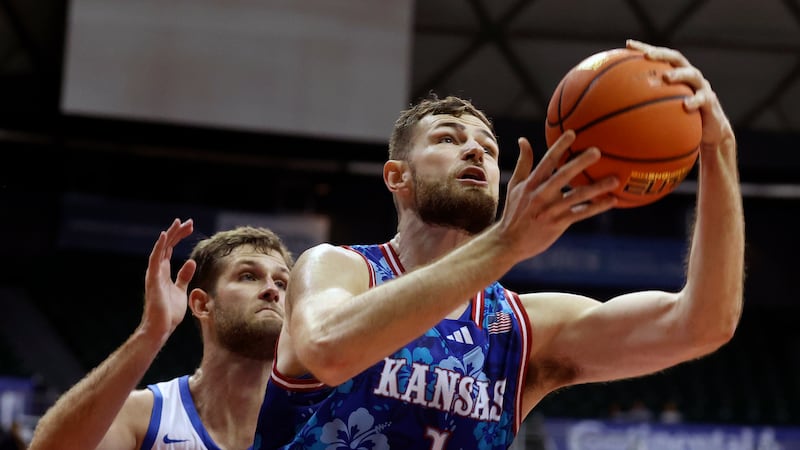 Published: Nov. 20, 2023 at 10:34 PM CST
HONOLULU (AP) — Hunter Dickinson had 31 points and 11 rebounds and No. 1 Kansas beat Chaminade 83-56 in a first-round game of the Maui Invitational on Monday.
The Jayhawks (4-0) led throughout and shot a blistering 60% from the field. They held the Silverswords (1-3) to 33.9% shooting.
Chaminade, a Division II school in Honolulu with an enrollment of 2,342 students, was unable to muster an upset against the nation's top-ranked team, as it did nearly 41 years ago against Ralph Sampson-led Virginia.
Dickinson, a 7-foot-2 Michigan transfer and AP Preseason All-American, made 15 of his 18 shots from the field. Kevin McCullar Jr. had 22 points and 11 rebounds with 10 assists, three steals and two blocks. Dajuan Harris Jr. added seven points, eight assists and four rebounds.
The triple-double by McCullar was his second in as many games, and the fourth in KU basketball history.
Jamir Thomas, Ross Reeves and Wyatt Lowell scored 12 points apiece for Chaminade.
Kansas scored 58 points in the paint compared to 22 for Chaminade, and also had the edge in fast-break points, 27-6.
Kansas led at the half, 39-27.
BIG PICTURE
As expected, Kansas showcased its talent-rich roster against an overmatched Chaminade team, but it did not come without some adversity. It held a 21-9 lead about midway through the first half, but saw the Silverswords go on a 9-2 run over the next four-plus minutes to cut it to 25-20 at the 6:22 mark. That led Kansas coach Bill Self to call a timeout. His team responded with a 14-5 run.
Chaminade has won eight games all-time in the Maui Invitational, with its last win coming against Cal, 96-72, in 2017.
UP NEXT
Kansas: Advances to the tournament semifinals Tuesday to face either UCLA or No. 4 Marquette.
Chaminade: Will play either the Bruins or Golden Eagles in a consolation game Tuesday.
Copyright 2023 The Associated Press. All rights reserved.