84-year-old woman beaten at front door by stranger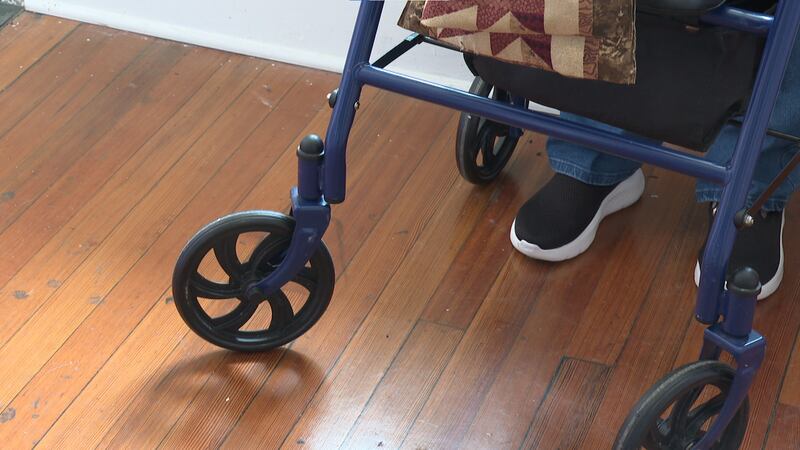 Published: Nov. 21, 2023 at 8:48 AM CST
LEAVENWORTH, Kan. (KCTV) - A suspect awaits sentencing after an 84-year-old woman answered her door and suffered a severe beating.
A knock at the door resulted in a violent beating on the woman's 84th birthday. The attacker, a 53-year-old Leavenworth woman, used the victim's walker to beat her.
Documents say on September 15, 2022, Sherry L. Housworth repeatedly banged on the victim's door. While using her walker, the victim answered the door and stepped outside to greet Housworth – a woman she did not recognize. While outside, Housworth reportedly became agitated, grabbed the victim's walker, and began striking her with it.
When officers arrived at the downtown Leavenworth home, the victim was lying face down in the yard. The victim was bleeding, and facial swelling and bruising were visible. The victim was conscious when officers arrived and described her attacker telling police the woman who beat her called her a cannibal and accused her of holding the woman's husband hostage.
A man who was working in the area and witnessed the attack told officers that the suspect walked westbound from the crime scene. He described the suspect as a heavier woman wearing a light-colored shirt and jeans.
Housworth was eventually arrested and taken into custody; she was located at a house a block away from where she attacked her victim.
On Friday, November 17, Housworth pleaded guilty to individual counts of aggravated battery, attempted aggravated battery, aggravated assault, and two counts of criminal threat.
Leavenworth County Attorney Todd Thompson said, "Whether it's a stranger or a neighbor, we need to be cautious when answering knocks at the door. I always hope neighbors can be neighborly, but that isn't always the case," Thompson added. "Fortunately, our victim is getting better."
A sentencing hearing is scheduled for December 20, 2023.
To get the latest news sent to your phone, download the KCTV5 News app here.
Copyright 2023 KCTV. All rights reserved.