FORECAST: First Warn Monday, chilly and damp with cold rain
Published: Nov. 20, 2023 at 6:32 AM CST
KANSAS CITY, Mo. (KCTV) - Cold rain is the name of the game again on Monday. A First Warn remains in place through late Monday evening. We are expecting off-and-on showers during the day with highs only in the lower to mid 40s. Most of the rain will be light to moderate, but a few brief heavy pockets will be possible. We should pick up an additional 0.25″-0.50″ by late Monday evening. Still think tailgating at Arrowhead will be damp, with scattered showers likely through kickoff. Make sure that rain gear is ready to go, plus an extra layer or two as temperatures will only be in the lower 40s. There is a chance that the later we go in the evening, some of the showers will start to break as this system pushes to the east. Most of us dry out overnight and into Tuesday morning. On the back side of this system, colder air and breezy conditions move in. Expect gusts up to 25-30 mph on Tuesday from the north, keeping our highs in the 40s. Wednesday and Thursday feature slightly warmer air as temperatures jump back up closer to 50. Thanksgiving Day looks dry! Still keeping an eye on the potential for a little wintry mix next weekend, but confidence is low at this time.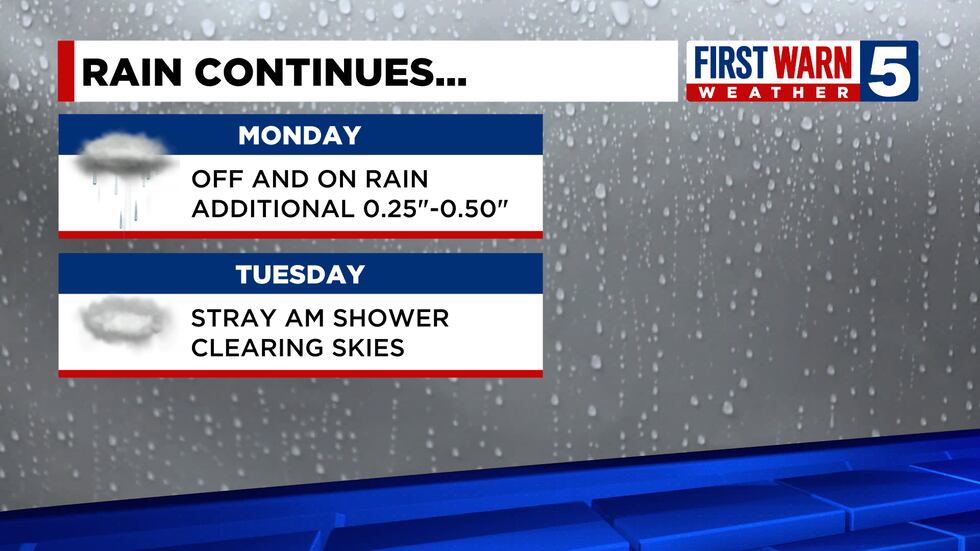 To get the latest weather updates sent to your phone, download the KCTV5 Weather app here.
Copyright 2023 KCTV. All rights reserved.