Kansas City man captures the 'spirit of the city' with unique artistic work
Updated: Nov. 16, 2023 at 10:10 PM CST
KANSAS CITY, Mo. (KCTV) - You can find the beautiful Kansas City skyline depicted on everything from t-shirts to posters.
One area artist, though, has captured it in a truly one-of-a-kind piece.
Born in Wichita, Kansas, 21-year-old David Pentimone was raised in the City of Fountains. By day, he is a training manager at an Amazon Warehouse. By night, he's a woodworker.
"I just really trying to capture the spirit of the city," said David.
At a makeshift workshop in his garage, David works on a slender piece of wood, carving the outline of a building.
"The Power and Light building is my favorite building of all time," he said.
Each of Pentimone's creations captures the most unique buildings in Kansas City.
"The World War I Memorial, the 909 Walnut building," said David. "I really try to showcase the architecture and ingenuity that went into building them so long ago."
This passion for woodworking began nine years ago when David was given his first scroll saw.
"I got it as a birthday gift from my parents," recalled David. "We just bought it used off of Craigslist for $50 or something."
As a teen, he would spend hours on the saw, teaching himself through patterns he found at the local library.
"It was about the most random stuff — a bird or a deer — stuff like that that's just very simple, that's just a silhouette of an animal," he said.
In time, he wanted more of a challenge.
"I always had that idea in the back of my mind: 'Man, I can do this for Kansas City.'"
So, Pentimone began experimenting.
"Making patterns, cutting it up go back to the drawing board, it looks terrible ugh it doesn't look like the real building," laughed David. "It started out pretty poorly there were some rough pieces it didn't look great."
But then things began to take shape.
"It's just a silhouette of the building, but it has both sides of the building," said David.
He would work on his creations day after day.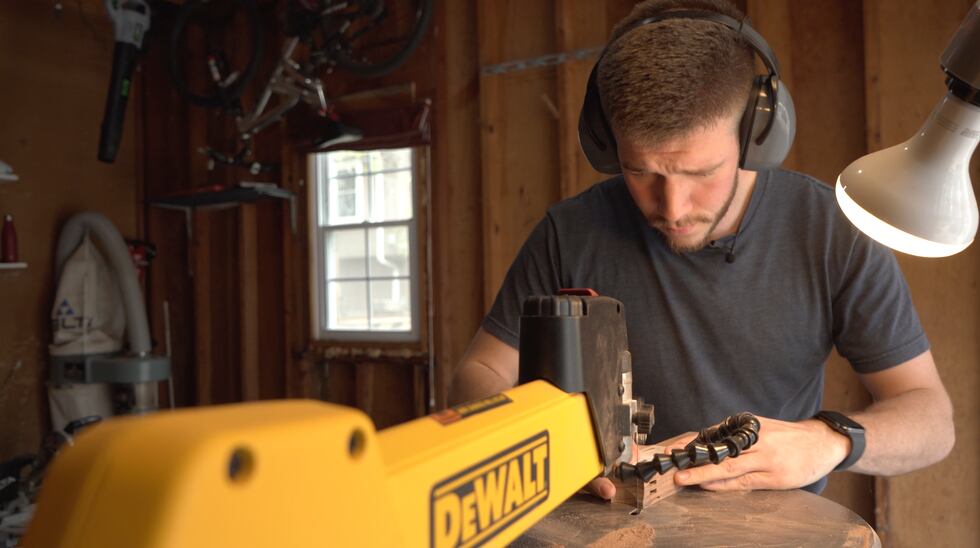 "Each piece takes about 45 minutes to an hour," said David.
Piece by piece.
"So, these came from the towers flanking the WWI Museum," said David as he pointed to the base of the tiny wooden sculpture. "And those have the iconic taller windows."
It all came together for one truly unique piece.
"I tried to have something that was born from Kansas City landmarks," said David.
Then Pentimone began to line up each of the landmarks.
"Power and Light is the King, World War One Memorial is the Queen, they're flanked by 909 Walnut," said David.
As David named each of the landmarks, he placed them on a board, revealing the ultimate set.
"Chess anyone?" said David, as he sat back with a smile on his face.
In front of David sat a beautiful hand-carved chess set, with each landmark as a chess piece. Standing tall in the back row, that unique Kansas City skyline.
"It's been wonderful to see how it connected with everyone here in Kansas City. There's been a lot of interest in it," said David.
We asked David if he plans to sell the Kansas City Chess sets.
"For now, I think it's just a hobby. One, they take too long to make. Two, there's so much work that goes into it," he laughed. "It's hard to think about letting them go."
Copyright 2023 KCTV. All rights reserved.