FORECAST: Seasonable start to the weekend with showers expected Sunday into Monday
Published: Nov. 17, 2023 at 6:03 AM CST
KANSAS CITY, Mo. (KCTV) - A First Warn is in place for Sunday and Monday because of a cold front sweeping through, bringing in showers and colder conditions just in time for the start of Thanksgiving week. Right now, the start of rain chances will be Sunday afternoon with higher chances Sunday night into Monday morning. The system will stall on Monday allowing for some wrap-around showers throughout the day Monday, into Monday night. The models are hinting at a possible change to wintry mix and snow for areas north of I-70. Behind the front, temperatures will measure significantly different than this week with highs in the 40s. So, as you are packing for Thanksgiving travels the jacket is a good idea. Friday temperatures will stay seasonable with highs in the mid-50s and sunny skies. Looking ahead to Thanksgiving Day, it will be a cold one as temperatures will struggle to move out of the 30s. That said, at least the pattern stays dry. By Friday, it's a different story. Both long-range models are on board with a storm system coming in which could bring snowfall. Of course, this is not ideal for holiday travel and shopping. The First Warn 5 weather team has your back and will continue to monitor the situation, updating you when we have more data.
To get the latest weather updates sent to your phone, download the KCTV5 Weather app here.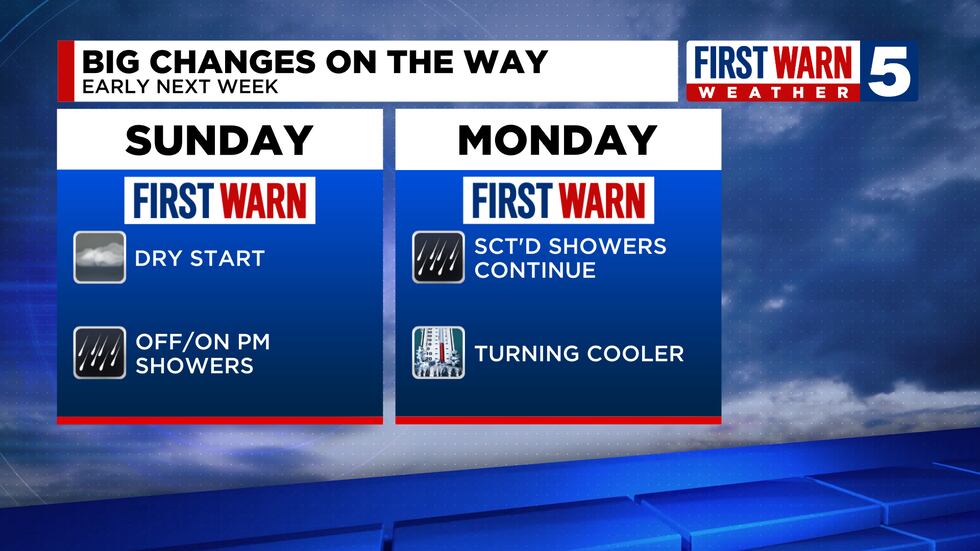 Copyright 2023 KCTV. All rights reserved.