'I'm not done yet': Jalon Daniels pledges return to KU for 2024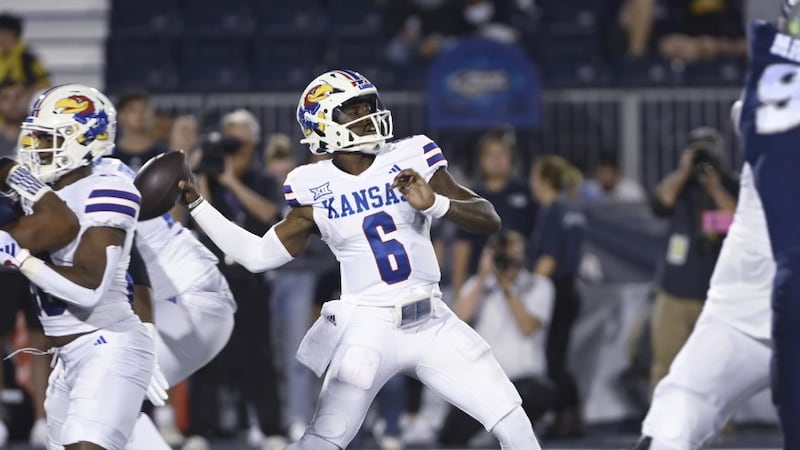 Published: Nov. 16, 2023 at 2:56 PM CST
LAWRENCE, Kan. (KCTV) - Jalon Daniels announced Thursday that he will return to Kansas for the 2024 season.
Daniels, who hasn't played since Kansas' Sept. 23 victory over BYU due to a back injury, shared the new via a video on his personal Twitter and a statement released by the Kansas football program.
"I'm going to be blunt. This season didn't go as planned," Daniels said in the video. "But life comes at you fast and sometimes your story is out of control, but I guess that just means I have unfinished business. My dreams haven't changed. My goals are still there, and my vision for my future is clear.
"So you want something to talk about? Talk about this. I'm not done yet and I'm not going anywhere. Rock Chalk."
The video came days after a report from K-State Online shared that rumblings existed around Daniels and a potential transfer out of the KU program at the end of the 2023 season. In the statement released by Kansas Football, Daniels said the adversity this season will set him up to come back stronger when he heals.
"Kansas is a very special place to me, and I will be back next season to continue to move the program forward under Coach Leipold," the statement read.
Daniels was named the Preseason Big 12 Offensive Player of the Year prior to the 2023 season. He only played in three games this season, completing 74.7 percent of his passes for 705 yards, five touchdowns and an interception in those three Jayhawk wins.
Because of the injury, Daniels would likely be eligible for a medical redshirt, leaving him with two seasons of eligibility remaining.
The No. 25-ranked Jayhawks have still managed to have success despite Daniels' absence. KU plays No. 21 K-State in Lawrence Saturday at 6 p.m.
Copyright 2023 KCTV. All rights reserved.