Here's your full guide to Kansas City's 2023 Holiday pop-up bars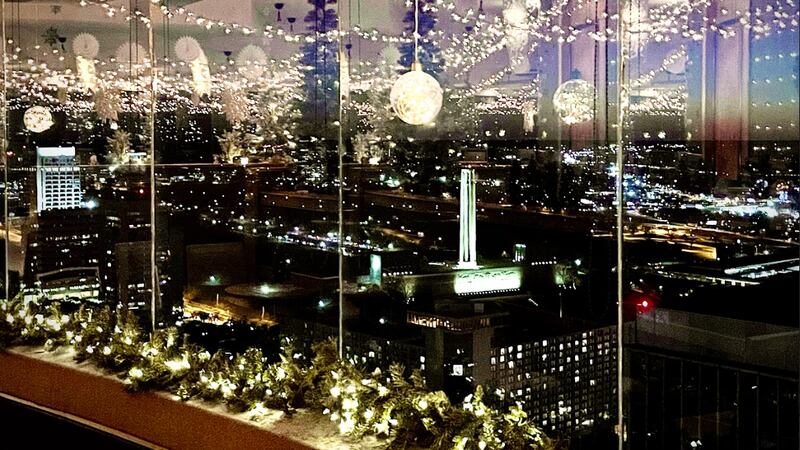 Published: Nov. 16, 2023 at 2:42 PM CST
KANSAS CITY, Mo. (KCTV) - The holiday season is here, and Kansas City is in full swing. For those wanting to celebrate and enjoy holiday themed pop-up bars, here is a full list including open and close dates.
Snowglobe at Calaveras Nov. 14 to Dec. 31-For those who love the Christmas season, here is your chance to be submerged in it with the over-the-top Christmas theme pop up at Mexican restaurant, Calaveras.
The newest Lee's Summit location offers special cocktails such as White Christmas Margarita, the Jack Frost and Santa's Little Helper. The full Calaveras food menu will also be available.
The bar will also host special events such as 'Ugly Sweater' Parties or themes like 'Santa Claus Visits'.
Snowglobe opened Nov. 14 and will be open until New Year's Eve and reservations are currently open. Calaveras will still be open for regular lunch and dinner when the Snowglobe is open.
Deck the District at Iron District Nov. 15 to Dec. 23-North Kansas City's Iron District are getting in the Christmas spirit with their 'Deck the District' pop-up.
Organizers will turn the upper deck into a cheerful Christmas experience complete with insulation and heat. Deck the District opened Wednesday, Nov. 15 and will run through to Dec. 23.
Iron District's social media will periodically update for information on reservations.
Winter Skies at Sheraton Kansas City Nov. 16-The iconic Winter Skies Kansas City, located at the top of the Sheraton Crown Center hotel, returns with their first opening Thursday, Nov. 16.
Immerse yourself into their festive winter wonderland forest. It will run on the weekends, Thursday to Saturday, with the first few weekends completely sold out.
The holiday pop-up will feature a cocktail menu made with Kansas City's Restless Spirits distillery as well as beer, wine and a dinner menu.
Reservations can be made through the pop-up's Eventbrite web page with prices starting at $70.
Holiday Hideaway at Chicken N Pickle Nov. 17-Yearning for summit views, outdoor firepits giving lodge and cabin energy? The Holiday Hideaway, a pop-up holiday bar at Chicken N Pickle is what you're looking for.
The pop-up will open on Nov. 17 and will stay open until New Year's Eve at both North Kansas City and Overland Park locations.
Reservations began on Nov. 8 and start at $20. Pricing will rise based on group sizes and pricing includes complementary small bites.
Nine Zero One's Igloo Bar Nov. 20 to Feb. 18-Nine Zero One's Rooftop will bring back its Igloo Bar and glamping lounges.
The Igloo Bar is set to open on Nov. 20 and runs through Feb. 18 at The Fontaine Hotel on the Country Club Plaza. Reservations range from $175-$350 depending on the experience and day of week.
Guests can reserve an igloo for groups of up to eight or a glamping lounge for groups of up to 20. There's also a happy hour from 4:30-6 p.m. Monday through Friday with specials on beer, wine, cocktails and small plates.
Miracle Kansas City Nov. 23-Grab your favorite ugly Christmas sweater and head to either one of Miracle Kansas City's two locations— one on the Country Club Plaza and the other in the Crossroads.
Miracle on the Plaza will open on Thanksgiving day, Nov. 23, and the Crossroads location will open the day after. Reservations are open now, online, however, Miracle will also take walk-ins.
Elf'd Up at Conductor Club Nov. 24-The Conductor Club will be "Elf'd Up" during its grand opening on Nov. 24. Get ready to walk into the Union Station's 'Elf' themed pop-up bar inspired by the 2003 Christmas classic movie "Elf."
Elf'd Up will open on Nov. 24. The first round of reservations open on Friday, Nov. 17 and the second round for December will be released on Dec. 8.
The Conductor Club requires a $5 fee per person to hold reservations and part of the fee will be donated to the Union Station Preservation Fund.
Rec Deck the Halls at Boulevard Nov. 24-Boulevard Brewing Company will bring their holiday cheer with their fourth-floor Rec Deck holiday bar. It will include a festive food and drink menu and even keepsake glassware.
The pop-up be open on Fridays, Saturdays and other special dates. Groups of 8-30 will require an online reservation and renting the Rec Deck for a holiday parties is also available.
Two-hour seating is available on a first-come, first-served basis along with a $5 cover charge. A portion of proceeds will benefit GIFT.
Tinsel Tavern, the holiday pop-up at the Power & Light District Nov. 24 to Dec. 30-The holiday cheer is making its way to the Power & Light District this year.
Leinie's Lodge, at 1323 Walnut Street, will see a complete transformation in the form of a winter wonderland and include specialty cocktails and food.
The pop-up will host holiday themed events such as Christmas karaoke and ugly sweater contests.
Opening day is scheduled for Friday, Nov. 24 and reservations are already open. Bar seating will be available on a first-come, first-served basis.
The space is also available for private events by emailing events@powerandlightdistrict.com.
Kingdom's Greetings Nov. 24 to Dec. 30-What better way for a Kansas City Chiefs fan to celebrate Christmas than spending it at GEHA Field at Arrowhead in the Penthouse. Kingdom's Greetings will open Nov. 24 running through to Dec. 30.
The penthouse will be transformed into a "snow globe of red and gold". Fans will have a chance to take pictures on a Chiefs sleigh, walk through red and gold trees, and sit by the fireplace.
Reservations are required online for one-and-a-half hours. Guests must be 21 and older. Thursday and Sunday reservations are $10 while Friday and Saturday reservations are $15.
The pop-up will be closed Dec. 10 when the Chiefs play the Bills, Christmas Eve and Christmas Day.
Merry Krampus! Dec. 11 to Dec. 30-This is not your mama's holiday pop-up! Looking for something less cheerful and more chilling, this two-week holiday sip & scare is what you're looking for.
Goat & Rabbit bar & restaurant sits near the Westport area. Currently there are no reservation guidelines listed.
Copyright 2023 KCTV. All rights reserved.