ESPN to air documentary centered around infamous superfan Chiefsaholic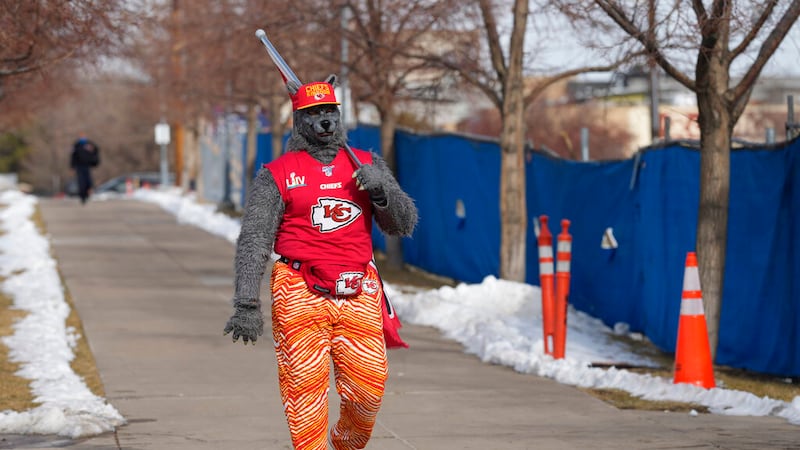 Published: Nov. 16, 2023 at 10:52 AM CST
KANSAS CITY, Mo. (KCTV) - The Kansas City Chiefs superfan who gained national attention for his series of alleged crimes in several states will be the subject of a documentary next week.
ESPN announced Thursday morning that a 40-minute special program will premiere on ESPN+ with the title "Where Wolf: The Search for ChiefsAholic."
Xaviar Babudar, known for his persona of "ChiefsAholic," was charged with 19 federal charges spanning across eight states.
Babudar was arrested on Dec. 16, 2022, charged with robbery with a firearm, assault while masked or disguised, possession of a firearm in commission of a felony, and threatening a violent act. He was accused of robbing a credit union in Tulsa, Oklahoma, but he made bail and was released.
A federal indictment showed that after a casino paid him $100,000 in winning Super Bowl bets, he cut his ankle monitor and ran.
The indictment showed Babudar placed two winning bets at Argosy Casino in Alton, Ill. in June 2022. At that time he bet $5,000 that Kansas City Chiefs quarterback Patrick Mahomes would win the Super Bowl LVII MVP. He also bet $5,000 that the Kansas City Chiefs would win Super Bowl LVII.
He was on the run for months before his arrest in Sacramento in July 2023.
In the documentary, Babudar is interviewed, as well as his attorney Matthew Merryman, the Bixby, Oklahoma, police chief and Tulsa district attorney.
"In his first public comments since his second arrest, Babudar – through his lawyer – responds from jail to extensive questions from ESPN's Elizabeth Merrill, one of the feature's reporters," ESPN's press release stated.
Babudar was charged with several other felony charges after more investigators determined he was responsible for other bank robberies in Iowa, Nebraska and Tennessee.
According to an affidavit filed in federal court, he purchased and redeemed more than $1 million in chips from various casinos in Missouri, Kansas, and Illinois between April and December 2022.
Federal court documents show Babudar robbed financial institutions throughout 2022 to bankroll his life attending Kansas City Chiefs games and other exclusive events.
A federal judge has ordered Babudar's trial to be held on April 29, 2024.
The Chiefs take on the Philadelphia Eagles in a Super Bowl rematch on Monday, Nov. 20.
Copyright 2023 KCTV. All rights reserved.