Book lost in Atlanta makes return to Johnson County Library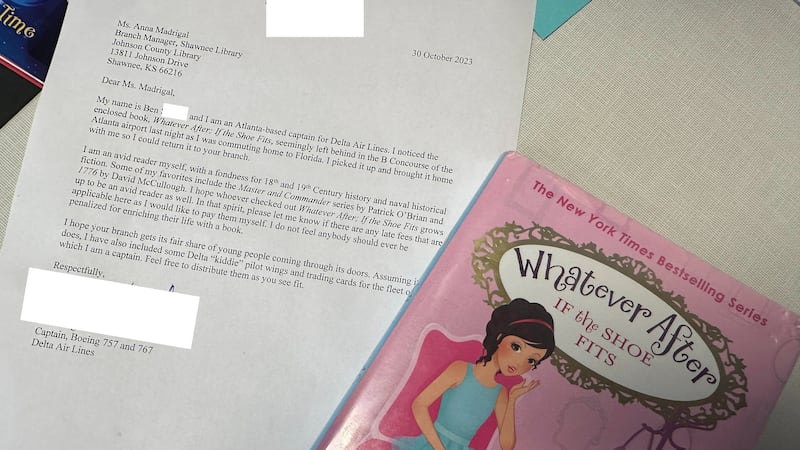 Published: Nov. 15, 2023 at 7:46 PM CST
JOHNSON COUNTY, Kan. (KCTV) - A Shawnee library recently welcomed back a book to its shelves from hundreds of miles away.
The book, Whatever After: If the Shoe Fits was found in the B Concourse of Hartsfield-Jackson Atlanta International Airport, and returned recently by a book-loving pilot.
The Johnson County Library shared a photo of the book and an attached letter from a Delta pilot sharing his love for books and desire to pay for any late fees attached to his long-distance return.
"My name is Ben and I am an Atlanta-based captain for Delta Air Lines," the man wrote in a letter dated from Oct. 30, 2023. "I noticed the enclosed book, seemingly left behind in the B Concourse of the Atlanta airport last night as I was commuting home to Florida. I picked it up and brought it home with me so I could return it to your branch."
Ben called himself an avid reader and said he has a fondness for 18th and 19th Century history.
"I hope whoever checked out Whatever After: If the Shoe Fits grows up to be an avid reader as well," he wrote. "In that spirit, please let me know if there are any late fees that are applicable here as I would like to pay them myself. I do not feel anybody should ever be penalized for enriching their life with a book."
Ben also attached some Delta kiddie pilot wings and asked the library to share them with young readers at the Johnson Drive location.
"Ben, if you see this, we think you're pretty awesome," the Library said in a Facebook post. "Come say hello if you ever find yourself in our neck of the woods."
Luckily for Ben -- and the forgetful Atlanta airport reader -- the Johnson County Library went fine-free earlier in 2023.
Copyright 2023 KCTV. All rights reserved.