FIRST FORECAST: Warm Wednesday on tap with cooler temps due at week's end
Published: Nov. 15, 2023 at 7:15 AM CST
KANSAS CITY, Mo. (KCTV) - High pressure is still committed to the area today which will allow for cool air this morning within the middle and upper 40s. This may be worth a light jacket for this morning but T-shirts are coming back out by this afternoon. High temperatures in the lower 70s will be common with mostly sunny skies.
We are also tracking our first round of wet weather and cold air. By Thursday night, a cold front will drop out of the northern plains and produce a small threat for isolated drizzle activity or light showers into early Friday morning. With it, cold air will drop into the Missouri River Valley. We will go from the upper 60s and lower 70s Thursday into the lower 50s by Friday. Seasonable temperatures will rebound us into a range between the mid-50s and lower 60s through the start of the weekend but by Sunday a large area of low pressure is now looking to impact the region.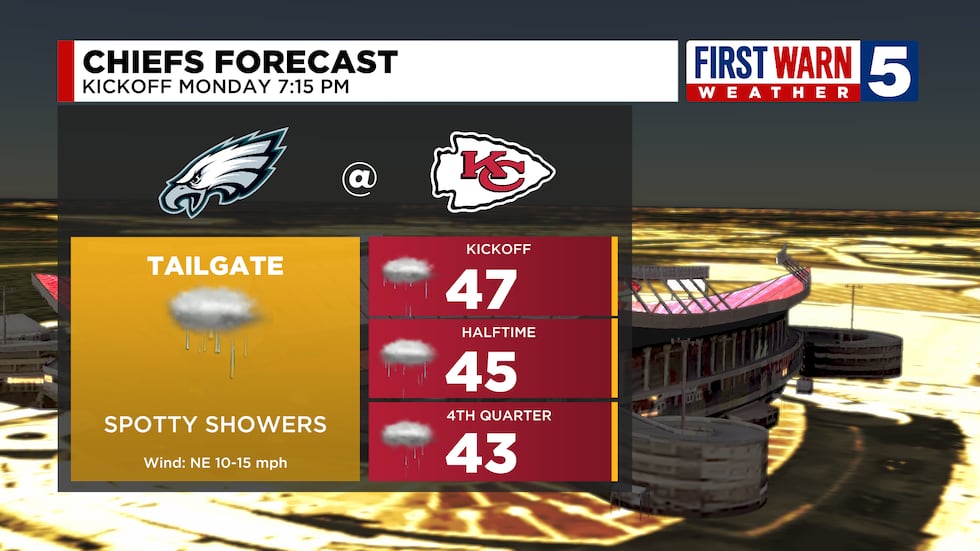 The timing on Sunday is still up in the air. However, there is confidence in wet weather beginning on this day, which has us increasing rain chances to 30% on Sunday. The bulk of the wet weather is anticipated Monday just in time for the big game against the Eagles. Widespread showers and heavy downpours are expected through the morning, afternoon, evening, and overnight into Tuesday. Rainfall forecasts indicate a range of a quarter of an inch of rain to nearly 1 inch of rainfall. We also anticipate temperatures to fall into the 40s with gusts ranging between 25 to 35 mph. This means the beginning of next week will be cold, windy, and very wet. Remember, we first warned you about this days ago and we will continue to track this threat as it develops through the rest of the week.
To get the latest weather updates sent to your phone, download the KCTV5 Weather app here.
Copyright 2023 KCTV. All rights reserved.