FORECAST: Scattered showers and thunderstorms remain a threat into Wednesday afternoon, along with a major cold air plunge in the next 48 hours
Published: Oct. 4, 2023 at 7:03 AM CDT
KANSAS CITY, Mo. (KCTV) - The main cold front continues to move through the area this morning bringing scattered showers and thunderstorms from one end of our viewing area to the other. Much of the storms will be moving to the east by 6 or 7 a.m. however, wet and slick conditions will remain, so please take caution while commuting this morning. At the same time, it is well worthwhile to keep that umbrella handy. This is not the only opportunity for rainfall today. By late this afternoon, one more round of shower and thunderstorm activity is expected, and some of our models are indicating a more robust opportunity for storms. The good news is that severe weather activity is still unlikely, and in fact well to the south of the viewing area. However, heavy downpours and potential gusts around 40 mph within these storms are still possible.
Once the storm system passes, we will have a dryer pattern expected for Thursday as temperatures drop from the mid-80s yesterday to the middle 70s. We may still have one more round of light drizzle activity in our Friday forecast as a week front introduces Canadian air to the region. Temperatures are expected to drop to the upper 50s and lower 60s for Friday which puts the area into a wardrobe change. This is why we have first warned for Friday. We anticipate a 15° to 20° drop within 24 hours.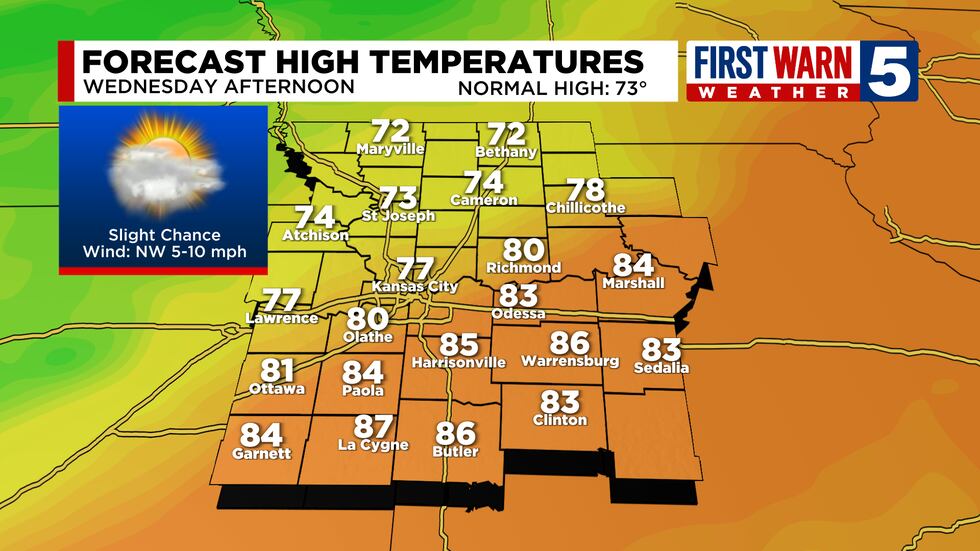 The temperatures remain in the lower 60s to start the weekend, but the morning lows for Saturday have us in the 30s. Lower-lined areas will be close enough to freezing for potential frost. These chillier temperatures, however, are expected to fade away as dryer conditions and warmer weather rebuild into next week.
As we move into Sunday afternoon, temperatures will move to the upper 60s and lower 70s, and by Monday\Tuesday we anticipate lower to middle 70s for afternoon high temperatures.
To get the latest weather updates sent to your phone, download the KCTV5 Weather app here.
Copyright 2023 KCTV. All rights reserved.