Jets not happy with questionable penalty call that turned the game late in 23-20 loss to Chiefs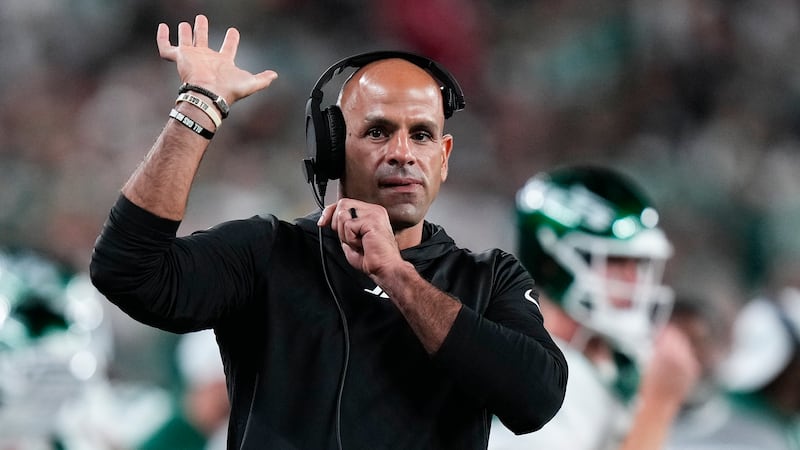 Published: Oct. 2, 2023 at 9:38 AM CDT
EAST RUTHERFORD, N.J. (AP) — A livid Robert Saleh stormed down the sideline, shouting at an official as several New York Jets players jumped around on the field in disbelief.
Frustrated fans booed in disgust, knowing the game just turned on a questionable call.
With the Kansas City Chiefs up by three points and looking to put away a win Sunday night, Michael Carter II intercepted Patrick Mahomes' deep pass intended for Marquez Valdes-Scantling.
The Jets, who erased a 17-0 deficit, thought they had a chance to tie or win — until they didn't.
Sauce Gardner was called for defensive holding on the play, giving the ball back to Mahomes and the Chiefs and they worked the clock the rest of the way to hold on for a 23-20 victory. After Mahomes' final kneel down, a still-fired up Saleh was called for unsportsmanlike conduct.
"I'm not going to comment on that," Saleh said when asked about the call after the game.
When asked if he was upset about the call, the coach simply said, "Yeah."
Replays showed some contact between Gardner and Valdes-Scantling, but it was questionable if it warranted a penalty that sealed the win for the Chiefs.
"The receiver ran into me, there was a collision — the same thing that was happening all game," Gardner said. "They didn't call no flags. Pat threw the ball outside of the receiver, M.C. (Carter) was there, he made the play. Then the ref threw the flag."
Gardner compared the call to when someone plays basketball and goes up for a layup and misses — but a foul is called.
"I can't believe that," the cornerback said. "That was just crazy because I don't think they even threw the ball my way, at me the first three quarters. Then they started to try checkdowns. Then the shot they tried to take is not going, then they finally get bailed out by that.
"Fourth quarter, crunch time. I don't even know what to say."
The Chiefs' third-and-20 from the Jets 40 turned into first-and-10 from the 35. Kansas City converted two more third-down plays on the drive, including Mahomes scrambling for 9 yards on third-and-8 and sliding down at the 2 — sealing the win.
"Listen, I thought it was a hold," Chiefs coach Andy Reid said. "I've got to go back and look at the tape on it. He was on the other side of the field. They're aggressive, so they're going to get a couple of those during the game.
"Sauce is as good as there is in the league, but he might have had a little bit of fabric there."
Jets quarterback Zach Wilson took the blame for the loss, particularly because he lost a fumbled snap on New York's final drive that Tershawn Wharton recovered to give Kansas City the ball for the last possession.
"To be driving right there, to drop a snap, I can not do that," Wilson said. "You know, I lost us this game and I can not do that."
Wide receiver Allen Lazard said Wilson addressed the team in the locker room after the loss, telling his teammates the loss was on him.
They told him it wasn't his fault — especially since the embattled Wilson had one of the best games of his career. He completed a career-high 28 passes on 39 attempts for 245 yards and two touchdowns.
That came a week after a dismal performance against New England that had fans — including Pro Football Hall of Famer Joe Namath — calling for Wilson to be benched.
"I thought he was really good," Saleh said. "He gave us a chance to win the game. He brought us back. If he plays like that, we're going to win a lot of football games."
It was Wilson's third straight start in place of the injured Aaron Rodgers, who rejoined the team Saturday after tearing his left Achilles tendon four plays into his debut on Sept. 11.
Rodgers was shown on the stadium video boards clapping and cheering in a suite while sitting with owner Woody Johnson after the Jets tied the game.
"Just that whole drive after the fumble was unfortunate," Saleh said. "That's extremely unfortunate, especially for a prime-time football game."
Saleh insisted there were "no moral victories" after the Jets were able to hang with the defending Super Bowl champions.
"I would have liked to have seen if we could have pulled that one out on that last drive," the coach said.
Wilson believed there was no question the Jets would score again.
"Absolutely," he said. "We were going to. We needed some time and it's not on the defense. It's on me. We had the ball with six minutes, five minutes, whatever it was, left. We were at midfield and we had a chance right there. So, I need to be better."
—
AP NFL: https://apnews.com/hub/NFL
To report a correction or typo, please email digitalnews@ky3.com
Copyright 2023 KY3. All rights reserved.