Blind Butt BBQ smokes stereotypes at KC's World Series of Barbecue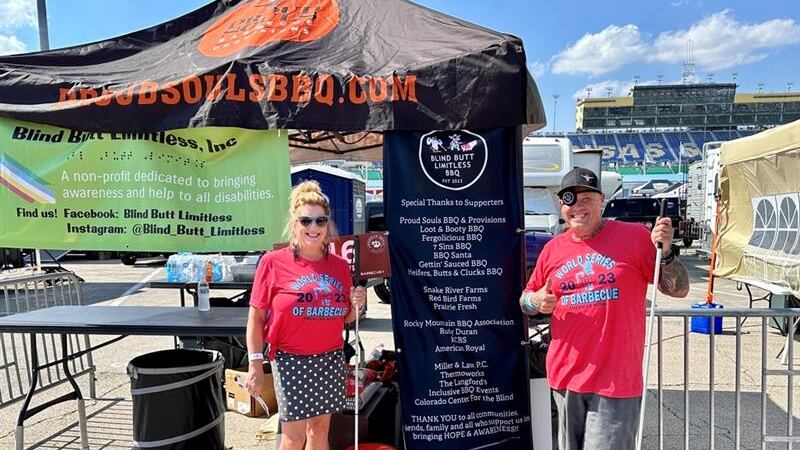 Published: Sep. 29, 2023 at 5:04 PM CDT
KANSAS CITY, Kan. (KCTV) - Thousands of people will spend the weekend at Kansas Speedway watching hundreds of barbecue teams compete to be named the best of the best.
Look through the rows of smokers, tents, and RVs and there is one team that is different than all of the others at the American Royal's 2023 World Series of Barbecue.
That team is Blind Butt BBQ, founded by Shane Howard and Brenda Harrison, located in tent #346. Howard says they are the first blind team to compete in the American Royal's event.
Howard and Harrison met at the Colorado Center for the Blind in Littleton. Howard lost his vision in an accident and was going through training to help him navigate his new reality at the time.
After meeting, the pair founded the nonprofit Blind Butt BBQ. The funny name has a very serious goal.
"Heading to KC ... to show the world what blind and disabled people are capable of doing! If we inspire just 1 person to fight for change, hiring blind and disabled people, looking at their abilities instead of their disability we win," Howard said.
Howard's lack of sight is one hurdle when it comes to smoking, but it's not his only obstacle. He also lost his sense of taste in the same accident that stole his vision. That means he can't taste anything he serves.
Howard and Harrison do everything by touch. That includes winning barbecue competitions in Colorado.
Even with the challenges, Howard doesn't want to be anywhere else.
He said experiencing this dream wouldn't be possible without all of the help the team receives from others. He credits Proud Souls BBQ & Provisions, which also has a KC location, with helping him get all of his equipment to Kansas Speedway. They also have sighted help to do things like slice brisket and the other meat that needs to be cut during a competition.
Howard and Harrison do everything else. They walked from their hotel to their competition location because Howard's aunt didn't arrive as soon as they did. Then they set up their tent and smoker and are ready to smoke.
"Thank you so much for your love and support. Thumbs up," Howard said.
Blind Butt Limitless, Inc. is smoking in the open competition on Sunday. They plan to enter chicken, pork butt, brisket, and ribs.
Copyright 2023 KCTV. All rights reserved.