The story of Kansas City's Nelly Don hits the big screen
"Nelly Don—The Musical Movie" captures the true story of a trailblazer that ignited a fashion revolution in Kansas City.
Published: Sep. 28, 2023 at 3:03 PM CDT
|
Updated: Sep. 28, 2023 at 4:28 PM CDT
KANSAS CITY, Mo. (KCTV) - A fashion forward movie is looking back on Kansas City's history. "Nelly Don—The Musical Movie" captures the true story of a trailblazer that ignited a fashion revolution in Kansas City in the early 1900s.
Nell Donnelly Reed was born in Parsons, Kansas. She moved to Kansas City when she was 16.
The American fashion designer sold approximately 75 million Nelly-Don dresses globally changing the meaning of housedresses.
"Nelly Don is an iconic figure in the history of fashion," Terence O'Malley is the executive producer, director, and writer of the film. He's also the great-great nephew of Nelly Don.
"She really wanted to make sure that her dresses were available for all women of shapes, sizes, and economic circumstances," O'Malley said.
Nelly Don's story fascinated O'Malley at a young age after he found his grandmother's scrapbook on her life.
He went on to make a documentary, write a book, and then create a stage musical in her honor. O'Malley says it took two years to adapt the musical to a film.
"COVID interfered on multiple occasions," O'Malley said.
Beyond the pandemic, O'Malley worked on the film as a full-time attorney. He also put in more $200,000 to fund the project in Kansas City.
"It's great that it's a Kansas City film and it's an affordable thing to make here in Kansas City." O'Malley went on to say, "I mean how many stories do you have that involve all the fashion, glamour, romance, politics, and the mob?"
While O'Malley focuses on his great-great aunts' success in the film. He also uncovers the drama Nelly Don faced along the way.
"Very rarely do you hear a story where a woman gets kidnapped and then is rescued by the mafia," O'Malley said.
Don had an abusive husband, an affair with a U.S. Senator, a fake adoption of her biological son, and a mobster-linked abduction. All of which is very well-documented in Kansas City's history.
To help bring the story back into the spotlight, O'Malley employed more than 100 local people to work on the musical film, including actress Julie Pope who plays Nelly Don.
"It was a challenge in the way of you have the time period and you have the person that is going to become the female CEO," Pope said.
O'Malley says he knew right away Pope was the person to play the part.
"We auditioned 85 people," O'Malley said. "After Julie was done, I turned to one of my associates and said, 'Well, at least we have one Nell.'"
Pope says, "It's been such a joy to build this with the Kansas City community."
There are several local areas on display throughout the musical film including Cockrell Mercantile, Shawnee Towne 1929 Museum, Pryde's Old Westport, Kansas City's Livestock Building, Browne's Irish Marketplace, and the Livestock Exchange Building.
The musical film can be found at the Union Station Extreme Screen, Screenland Armour, Glenwood Arts Theatre and select AMC theaters starting on September 29.
Only 4 out of 8 independent films make it to AMC theaters each year. Now, "Nelly Don—The Musical Movie" is a part of that success.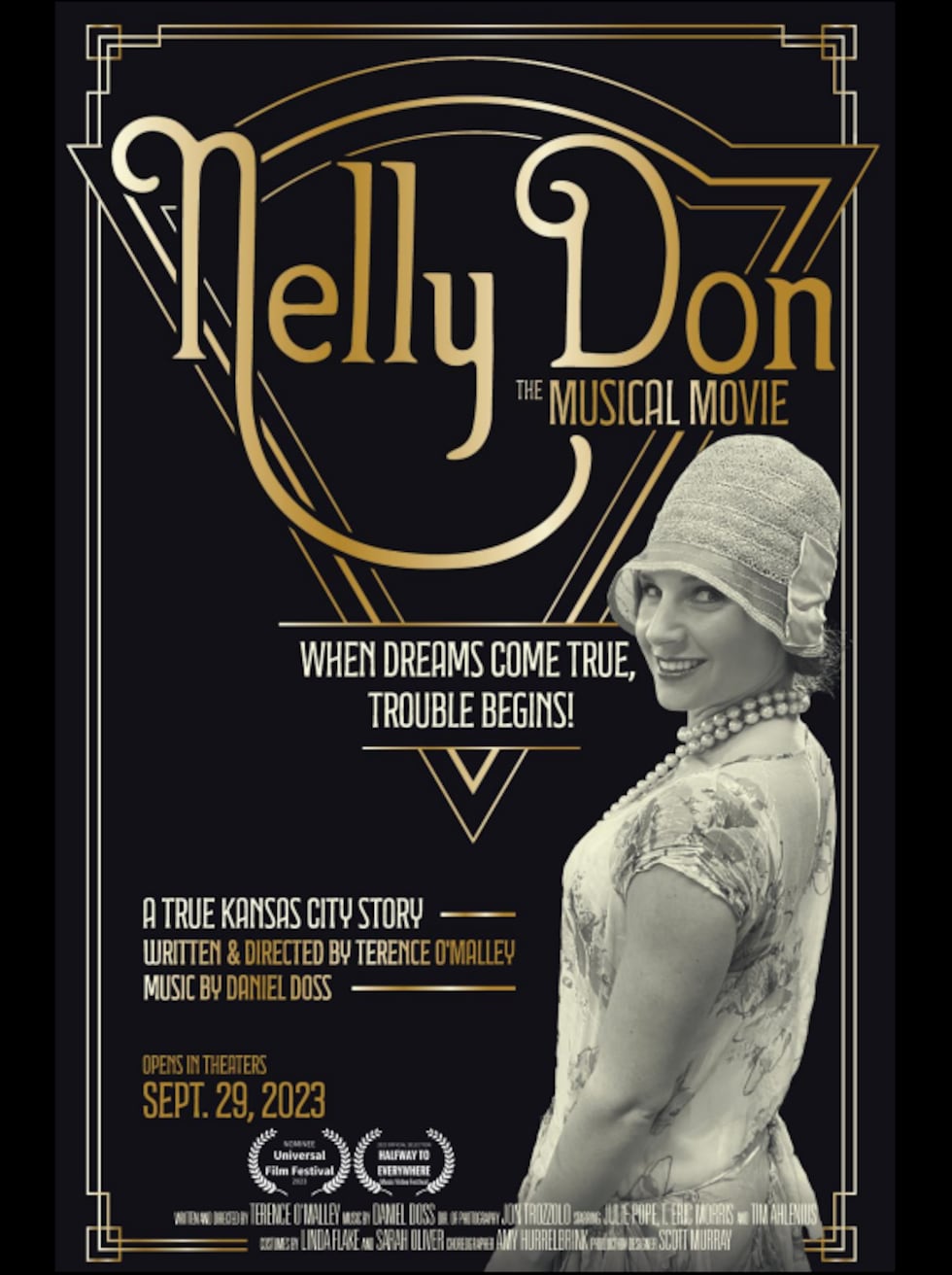 Copyright 2023 KCTV. All rights reserved.