'Travis Swift': Local businesses cash in on Kansas City's Chiefs Era
Published: Sep. 25, 2023 at 10:06 PM CDT
KANSAS CITY, Mo. (KCTV) - Local shops are seeing a boost in sales and getting creative when it comes to Travis Kelce and Taylor Swift's romance.
As soon as Swift was spotted at the Chiefs game on Sunday, Dolce Bakery in Prairie Village got to work in the kitchen.
"We were like, we have to capitalize on this; our two favorite things in the whole world are in one place," said store employee Day Zamora.
So, they created heart-shaped cakes for the lovers—one said 'Travis Swift,' '87 plus 13,' and of course, 'In Our Chiefs Era.'
"Our main sale for this is just joy; we want you to eat cake, smile, and be happy," Zamora said.
You can order one of their Chiefs Era Heart Cakes on their website, dolcebakes.com.
Over at Rally House, store manager Aaron Lewis said the Swifties have shown up, this time asking for another kind of 'Red.' Within hours, sales went through the roof.
"We've had quite a few Swifties looking to see if we have any Travis Kelce plus Taylor Swift stuff," Lewis said. "He's in high demand, and so is she. Yesterday, he was my number one selling jersey."
Others in the Chiefs Kingdom are putting their money towards other things.
"I just bet my mom $10 that they weren't going to last through the season, but I'm here for it," said Chiefs fan Jaima Saunders. "If he's happy, I'm happy. If it's going to help him score, let's go, Chiefs!"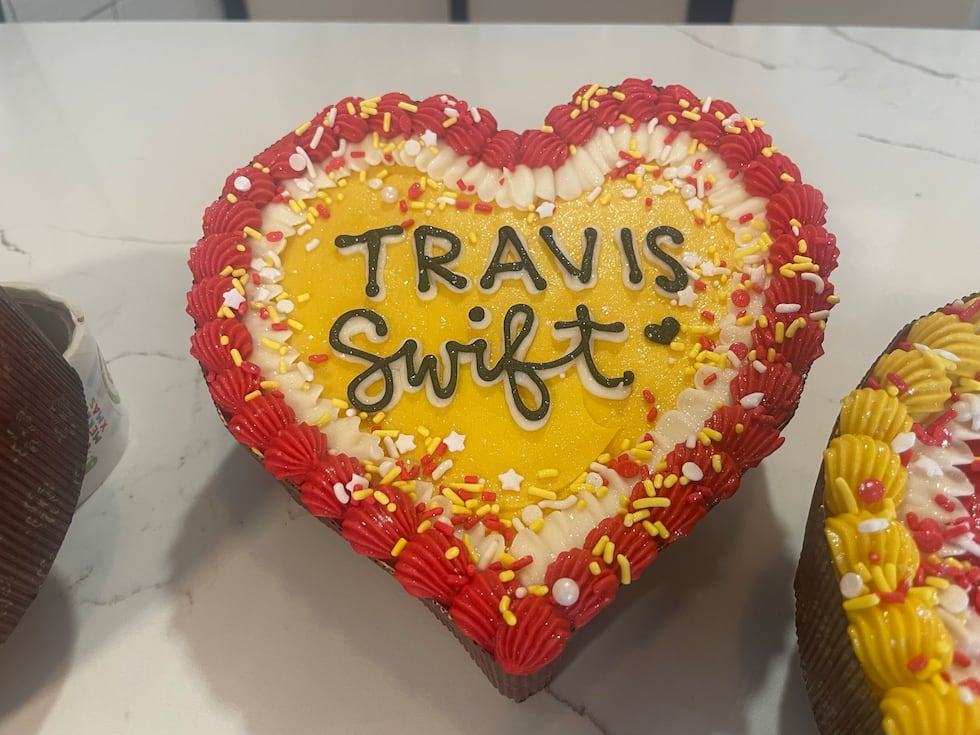 Copyright 2023 KCTV. All rights reserved.