FIRST WARN FORECAST: Lower to middle 80s Tuesday but near 90° by the end of the work week
Published: Sep. 26, 2023 at 6:11 AM CDT
KANSAS CITY, Mo. (KCTV) - Low pressure remains across northern Illinois and extreme eastern Iowa today with a front that elongates back through the central plains. With high pressure still involved in the region, this front will remain dry, so no chances for wet weather are expected today.
This low-pressure system is expected to dip more towards southern Illinois through the next 12 to 24 hours and with the back half of low pressure in close proximity to the tail of the front, there may be a very small opportunity for isolated showers to our eastern counties early Wednesday morning. Severe storm activity or intense thunderstorms are not expected. However, we are not ruling out isolated showers, or a very brief weak thunderstorm. This is our best bet for any wet weather as we move forward in the forecast.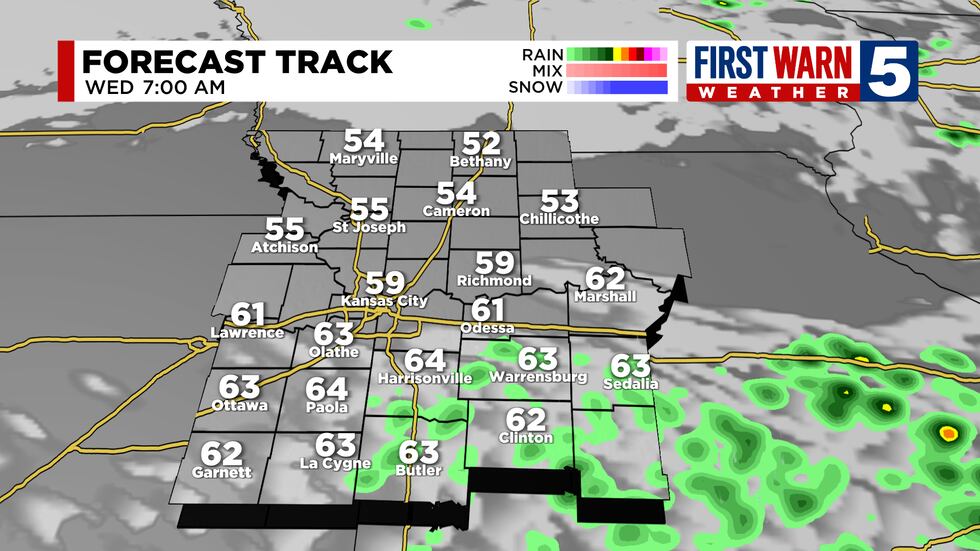 Mid-level high pressure remains dominant through the central plains, along with an upper-level range of high pressure that builds in from central Mexico. This will usher in a warmer trend that will gradually creep temperatures to the upper 80s and lower 90s by Friday into Saturday. This may not build in a heat advisory or excessive heat warning, however, with average temperatures supposed to be in the middle 70s for the beginning of the fall season, these temperatures are slightly abnormal and should be taken seriously for any outdoor activities. Be sure to plan just like you would for the summer season. Keeping hydrated and finding ways to cool off such as shaded areas or the AC will be a good idea. UV rays are moderately high through the next several days, but it's still worthwhile to slap on sunscreen if you anticipate being outdoors for more than an hour at a time.
As we move closer to next week, there are signs of temperatures slowly falling back, but even Monday's forecast is expected in the middle 80s at this time.
To get the latest weather updates sent to your phone, download the KCTV5 Weather app here.
Copyright 2023 KCTV. All rights reserved.