FIRST WARN FORECAST: Temperatures 10 to 15° above average Monday, small threat for a few isolated showers Friday
Published: Sep. 25, 2023 at 7:08 AM CDT
KANSAS CITY, Mo. (KCTV) - High pressure remains the dominant feature across the central plains, even as a front attempts to stretch across the region. We will keep mainly clear skies for today, including this morning, but I do not want to rule out some low-level fog for the morning drive there have already been several counties just south of the viewing area under dense fog advisories, which may expand into our area. Wind will remain between 5 and 10 mph out of the northwest through the day with temperatures rising to the lower 80s.
The front that expands across the central plains just south of our viewing area is attached to a low-pressure system meandering within Illinois. By Wednesday, we will see this area of low pressure drop into South Central Illinois allowing just enough moisture to be kicked up along the front. Much of the wet weather chances will be east of the viewing area within Columbia to St. Louis but there was a small opportunity for us to get a few isolated showers or a weak thunderstorm Wednesday. At this time we're keeping it at a 20% chance.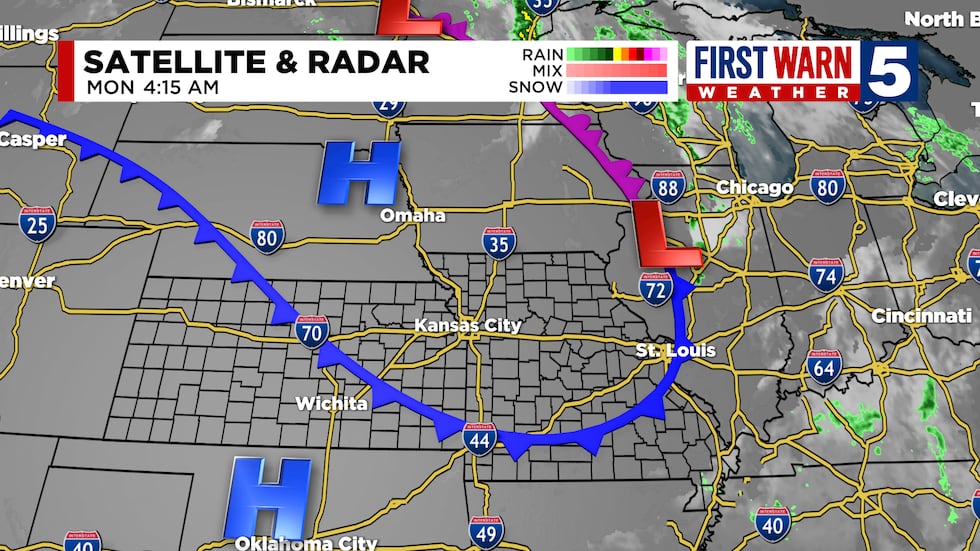 As we move through the work week, an upper-level range of high pressure pulls warmer air in from central Mexico. This will allow temperatures to continue to rise into the middle and upper 80s ranging temperatures between 84° and 88°. Our average high temperature for this time of year is around 76°. Rain chances are not expected during this time, and in fact, partly sunny to mostly sunny skies will be more common.
For now, the temperatures show signs of slightly decreasing by the end of the weekend, but not by much.
To get the latest weather updates sent to your phone, download the KCTV5 Weather app here.
Copyright 2023 KCTV. All rights reserved.