FIRST WARN WEATHER DAY: Models showing forecast changes, severe weather remains highly likely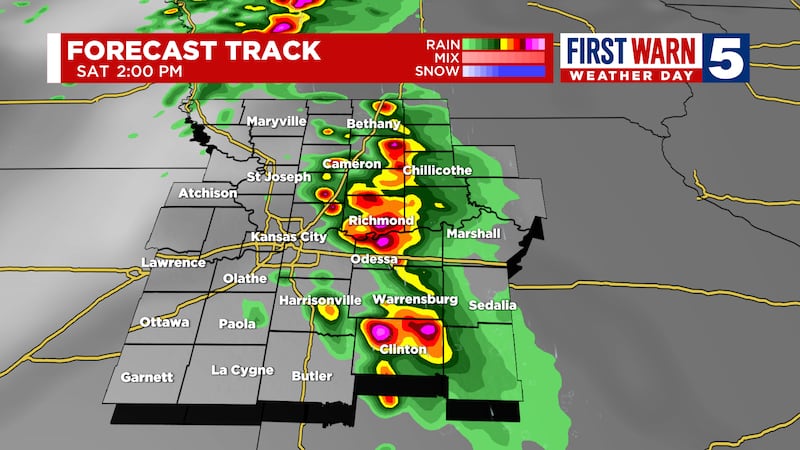 Published: Sep. 23, 2023 at 10:43 AM CDT
KANSAS CITY, Mo. (KCTV) - We continue to update you on this First Warn 5 Weather Day of severe storm activity that can be dangerous or life-threatening to the viewing area. A powerful area of low pressure draping a cold front to the south and west along with a warm front that stretches out ahead of this area of low pressure is the reason for severe storm development.
In between these two fronts is a dry line that separates warm, dry air from moist, warm air. Because of its location, this will constantly feed instability to the atmosphere around both the warm front and the cold front. Along with forced lifting from the fronts themselves and warm air lift, a more scattered severe thunderstorm threat along an organized line is likely.
This has issued an enhanced risk for severe storm activity that starts around the Kansas City metro and I-70 then transitions south broadening as far as Garnet all the way over to Clinton and Sedalia.
Severe storms have already begun developing this morning, which potentially could help us depreciate the threat for severe storms later today. In order for these storms to have developed, they had to take energy from the atmosphere and instability. If the storms take too much energy and instability ahead of the main storm system, then the main storm system will have less to work with to create more severe weather. However, the argument can be made that there is too much available energy and instability in the atmosphere already, and even though the storms have developed, it should not alter how active the storms will be into the evening.
New model data late this morning has also changed. We work with several different models that are good for forecasting 24 hours in advance of severe storms. With the new update and data that has reached our systems, our models are not showing continuity. For example, our high resolution model is indicating the potential for severe storms starting now, and will continue through the rest of the day into the overnight. Showing random isolated spots of severe storms with a few areas, broadening a severe weather threat, mainly to the south and east.
The NAM model indicates a line of strong storms developing just northeast of the metro and grazing the eastern metro by 8 p.m. tonight and will transition more to the south and southeast, broadening the severe weather threat into the early morning of Sunday closer to Sedalia, Clinton, and Butler.
What has remained consistent in all of our model data is that a severe weather event is highly likely. We must stay alert today and we will continue to monitor the storms as they develop here at KCTV5 at the First Warn 5 Weather Center.
To get the latest news sent to your phone, download the KCTV5 News app here.
Copyright 2023 KCTV. All rights reserved.