MDC confirms 117th sighting of mountain lion in Missouri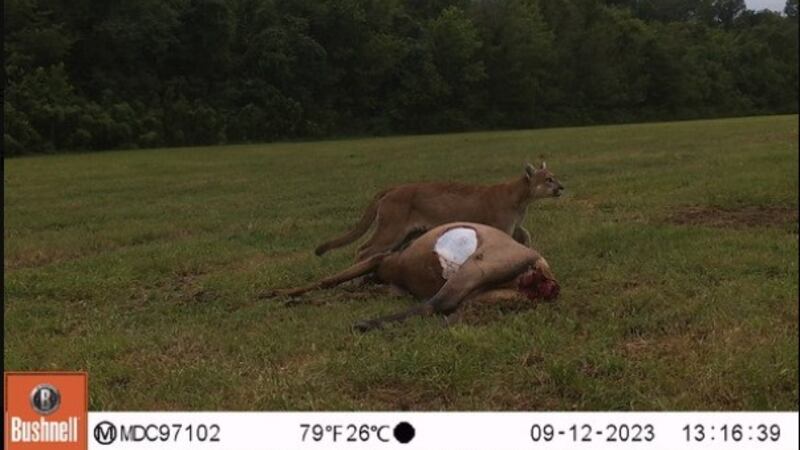 Published: Sep. 22, 2023 at 3:07 PM CDT
SHANNON COUNTY, Mo (KCTV) - The Missouri Department of Conservation received reports of a mountain lion sighting on Tuesday, Sept. 12.
MDC Large Carnivore Response Team responded to the area that same day to confirm the sighting. Trail camera images caught the predator returning to feed on an elk carcass.
This makes the 117th confirmed sighting since 1994. MDC posted on their Twitter about the sighting.
According to the MDC Furbearer Biologist Nate Bowersock, Mountain Lions are considered natural predators to elks.
Here in Missouri, we have an abundant of natural foods for mountain lions. While we do get questions regarding livestock, there has never been a confirmed instance of a mountain lion killing livestock in Missouri
MDC staff were able to collect genetic samples from the site. Those samples are now being processed for more information about the feline including the sex.
Most of the confirmed mountain lion sightings in Missouri are males.
"This scenario is nothing to be concerned about," said Bowersock.
MDC says that although mountain lions are known to travel through Missouri, there is not a known breeding population in Missouri.
For suspected mountain lion sightings, reports can be made to MDC by emailing photos, video, or physical evidence to mountain.lion@mdc.mo.gov.
Click here for more information about mountain lions in Missouri.
To get the latest news sent to your phone, download the KCTV5 News app here.
Copyright 2023 KCTV. All rights reserved.