State required physical inspections for property tax increases, author of legislation explains intent
Published: Sep. 21, 2023 at 4:58 PM CDT
KANSAS CITY, Mo. (KCTV) - Physical inspections are now required by state law in Missouri if a property increases in value by more than 15%. It certainly applies to many homes in Jackson County where property values increased an average of more than 30%.
Many homeowners question if those required inspections really took place. KCTV5 spoke with the former lawmaker who authored the law.
"The intent was to keep the evaluation increases at less than 15%. And if it's going to be more than 15% the assessor's office is going to have to do a lot of legwork," said J. Eggleston.
Eggleston, a former Missouri state representative, also weighed in a recent KCTV5 investigation which analyzed timestamps from assessment photos.
The Assessment Director, Gail McCann Beatty, has explained numerous times the in-person inspections involve measuring, a photo and documentation in the field. Her department even produced videos showing the process.
Our report revealed in one Independence neighborhood, there were 52 inspections in 36 minutes. That's 41 seconds per property.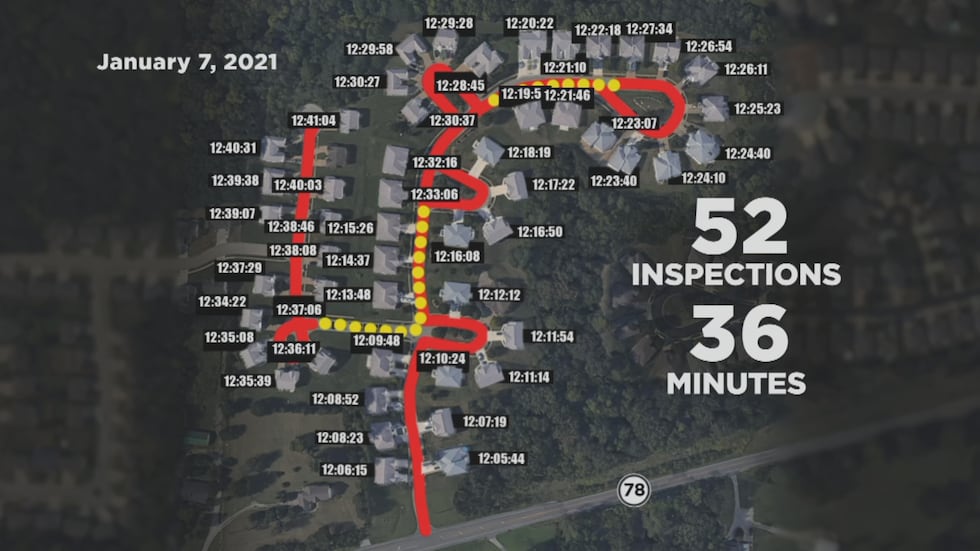 "It sounds to me like at 41 seconds or they're kind of getting around the legwork that the legislature intended," said Eggleston. "It would be difficult to walk all the way around someone's house and get a good idea of the quality of the house in 41 seconds."
Homeowners weigh-in
Homeowners have a wide range of experiences when it comes to physical inspections.
One KCTV5 viewer believes their physical inspection was simply a young man asking her husband how many bathrooms are in their house while he was mowing the lawn. Her husband answered and the person walked off. Their property value raised 200%.
"This whole thing is a mess, a scam at every corner and we are lost as what to do!" wrote Laura Carey.
Carey and her husband are seniors and tried to appeal. But The county now says they filled out forms for an interior inspection- not an appeal.
Recently passed tax relief for Seniors in Jackson County will not take effect until next year. The Careys won't qualify because of stipulations in the new ordinance, so they will be stuck with a larger tax bill they can't afford.
Other seniors question if anyone ever came to their home pointing to their ring cameras which surround the house.
"We have ring cameras on all three of our properties. And none of them ever picked up anybody here taking pictures taking measurements," said Glen Williams.
The Williams also checked with neighbors in their established Blue Springs neighborhood. They tell KCTV5 Investigates that no one received any notification indicating assessment workers were on their property with measuring tapes. And no one knocked on their doors.
"I think she's lying through her teeth," says Glen Williams.
His wife Dottie firmly agrees. She recalled a county representative arguing the couple must not have been home during the inspection and explained a door hanger was left and an employee knocked on the door or rang the doorbell.
"None of that was true. Nobody came out or rang our doorbell. Nobody left a hanger," said Dottie Williams, "They were never on our property."
Phone notifications alerted the Williams someone was on the property during our interview.
They later sent two videos and 5 photos to the station documenting the visit.
State law and county ordinances
Missouri state law requires a physical inspection if the property tax value is more than 15 percent.
Subsection 10 reads:
10) Before the assessor may increase the assessed valuation of any parcel of subclass (1) real property by more than fifteen percent since the last assessment, excluding increases due to new construction or improvements, the assessor shall conduct a physical inspection of such property.
But what counts as a physical inspection? There's a subsection for that as well:
12) A physical inspection…shall include, but not be limited to, an on-site personal observation…Mere observation of the property via a drive-by inspection or the like shall not be considered sufficient to constitute a physical inspection as required by this section.
The Jackson County code, Chapter 20, clarifies those required physical inspections. It states that there's a required notice, and specifically states drive-by inspections don't cut it.
The code reads:
Except as otherwise provided…mere observation of the property via a drive-by inspection, or by viewing satellite imagery, photographs, or drone video footage, shall not be considered sufficient to constitute a physical inspection as required by this section.
Homeowners suspect those laws were ignored. State Auditor Scott Fitzpatrick has been asked by the Jackson County Legislature to audit the last Jackson County assessment. He told KCTV5 he's going to investigate whether actual inspections took place.
Copyright 2023 KCTV. All rights reserved.