Kansas City is first stop for rebranded Oscar Mayer Wienermobile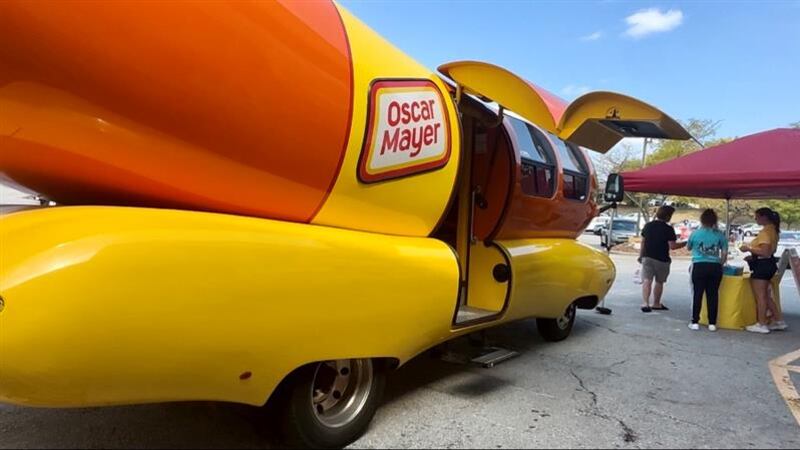 Published: Sep. 21, 2023 at 4:01 PM CDT
KANSAS CITY, Mo. (KCTV) - The Oscar Mayer Wienermobile is back in action.
The brand's iconic 27-foot hot dog on wheels was renamed the Frankmobile earlier this year to celebrate the new recipe of the company's 100% beef franks. Now that fall is arriving, Oscar Mayer decided to change the name back to the Wienermobile. Oscar Mayer announced the branding change Thursday.
"The Frankmobile was truly a BUNdle of joy. But now, it's time to welcome back the Wienermobile! ❤️🌭," Oscar Mayer wrote in an Instagram post.
A Kansas City Hy-Vee, near Interstate 29 and Barry Road was the first stop for one of the six rebranded Oscar Mayer Wienermobiles.
One of the drivers, who goes by the title of "hotdogger," said the Wienermobile will make stops across Kansas City through the weekend.
It's free to see the Wienermobile, and take a selfie with it. The drivers said if the weather is nice visitors may even "relish" a peek inside the infamous ride.
Inside there are plush seats with hotdog decorations, ketchup pillows, speakers, and a flat screen TV.
To see where the Wienermobile plans to stop, or to follow along with the other Oscar Mayer vehicles, check out the mobile tour tracker on Oscar Mayer's website.
Copyright 2023 KCTV. All rights reserved.