Former Park Hill, Mizzou wrestling star confident heading into Bellator 299 bout in Dublin
Published: Sep. 21, 2023 at 4:40 PM CDT
|
Updated: Sep. 21, 2023 at 7:26 PM CDT
KANSAS CITY, Mo. (KCTV) - Johnny Eblen is over-educated and way too cultured to be a typical MMA fighter.
The Park Hill High School alum has a master's degree from the University of Missouri, where he won academic all-conference awards.
But Saturday night in Dublin, Ireland, the mild-mannered Johnny will become his alter-ego: "The human cheat code."
"I actually changed my nickname," Eblen said. '[It's] now Johnny Pressure. I put the pressure on, and I just break people. It's what I do."
Call it cocky, call it honesty. But the numbers back him up. Eblen is 13-0 in his professional MMA career. But in Fabian Edwards, he's taking on a man that many expect to dominate the 185-pound weight class for years to come.
"Fabian's a better kickboxer," Eblen said. "A little taller, a little more explosive. Has a different stance: he's a southpaw. So it's definitely a different puzzle to solve."
Edwards is the younger brother of the UFC welterweight champion Leon Edwards.
And while Johnny's an underdog, this former Missouri state wrestling champion remains confident.
"It's going to break a lot of people's hearts," he said.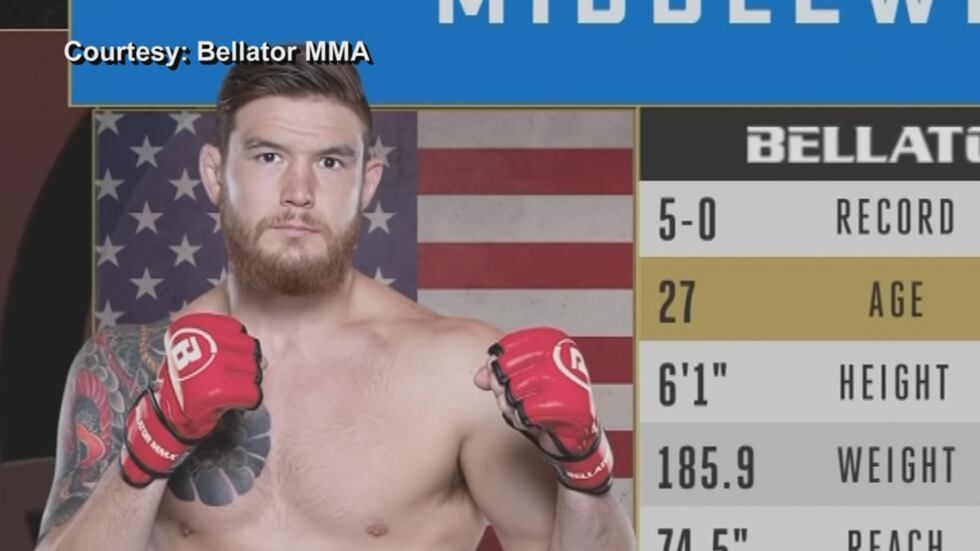 While he's unknown nationally, Johnny remains a star at his alma mater Park Hill High School, where he won a state wrestling championship.
"It's hard to be a big guy and wrestle in high school your freshman and sophomore years, but Johnny could handle it," former coach Bill Erneste said.
For 16 years, Erneste coached Trojan wrestling, where he won six state team titles. He saw the seeds of greatness in Johnny.
"He had a strength that was different than other freshmen that came in," Erneste said. "His work ethic was second to none- his tenacity. He wasn't afraid to mix it up with the other kids."
His dad will be in Dublin on Saturday night to watch his son fight.
His mom? She wants no part of it!
"She still closes her eyes and prays," Johnny told KCTV5. "She's getting better about it, more used to it. She hates it when I fight."
His mom wants Johnny to pursue either the law or a career in medicine, and he's got the grades and test scores to do that. But for now, he's enjoying his run as a Bellator world champion.
"It's just really cool to be a part of all this and to be able to travel the world, get out of the little town of Kansas City and really see the whole world," Eblen said.
You can watch the Park Hill Trojan-turned-Missouri Tiger defend his title on Saturday at 4:30 p.m. on Showtime.
Copyright 2023 KCTV. All rights reserved.