FIRST WARN FORECAST: Thursday's calm before the storm as severe weather activity threatens in the next 24 hours
Published: Sep. 21, 2023 at 6:06 AM CDT
KANSAS CITY, Mo. (KCTV) - With low pressure strengthening to the west of the central plains, and a week trough stretching across the Missouri River Valley, chances for showers and thunderstorms are going to grow through the next 24 to 48 hours. Today, there may be a small opportunity for isolated showers but for the most part, clouds are expected to build throughout the day with temperatures beginning in the lower 60s this morning and topping off in the lower 80s by late this afternoon. Wind will mainly be out of the east between five and 15 mph, but will quickly transition to the south overnight tonight as low pressure and a warm front track in from the west.
A marginal risk for severe storms is still up across our northwestern counties for tomorrow morning. Models are not consistent with one another in the coverage of shower and storm activity. However, each model does indicate stronger storm cells, mainly within the area that is under a marginal, severe weather risk. The timing of the storms is more likely in the early morning between the hours of 6 a.m. into lunchtime. As we go through the day today, new data will help us potentially gather confidence in coverage so please stay tuned as we hone in on who will be impacted by these strong storms.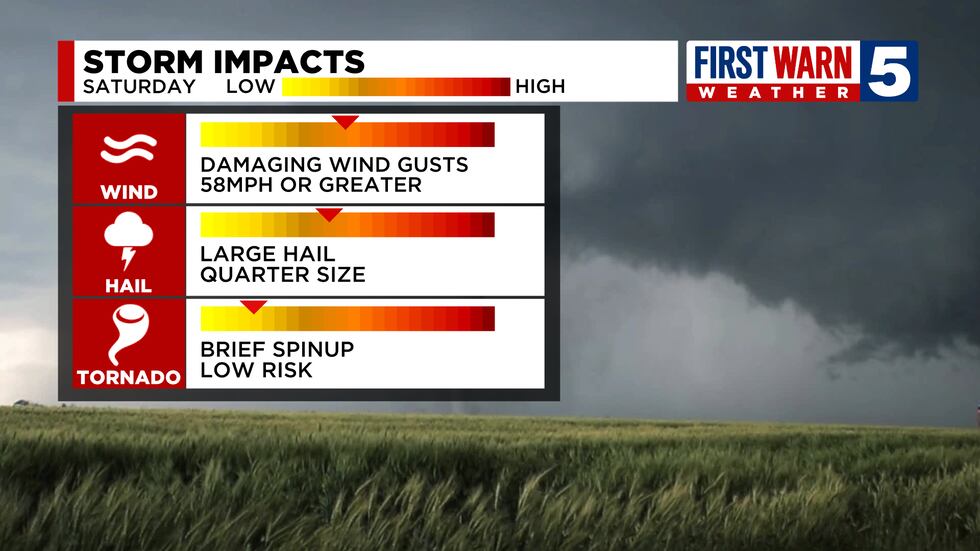 By Saturday, the area of low pressure and its respective front or track across the central plains. A dry line seems to develop in between fronts that move overhead. This is one of the reasons why we see an opportunity for severe storms within the area. A slight risk of severe storm activity is expected for much of the Missouri River Valley. Timing has changed slightly and now develops within the early evening around five and 6 PM, the location also seems to now be more concentrated around the Kansas side and will continue to track east through the night. Moderate threats for damaging wind and hail larger than a quarter in diameter are expected but at this time rotation or tornado development is still on the lower scale. Please plan and prepare for this inclement weather as we move into our Saturday.
The good news is that the storm activity should move out by early Sunday morning and the dryer pattern will take over as temperatures drop back down to the middle and upper 70s for daytime highs and morning Lows remain in the 50s.
To get the latest weather updates sent to your phone, download the KCTV5 Weather app here.
Copyright 2023 KCTV. All rights reserved.