Kansas City hospitals watch COVID-19 cases slowly increase approaching cold, flu season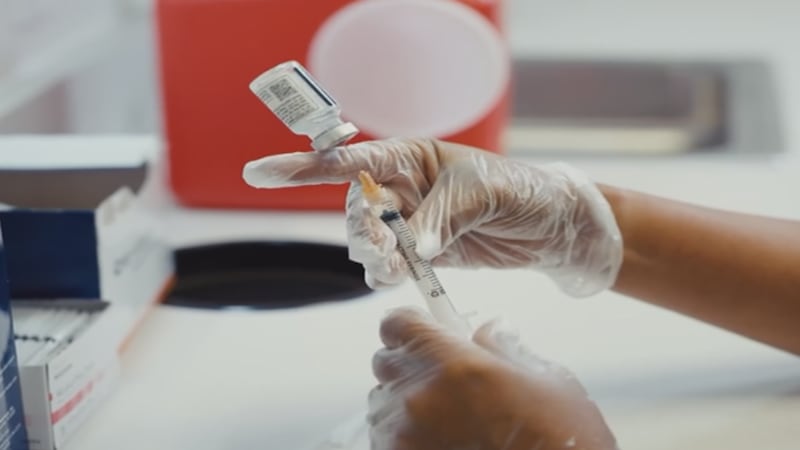 Published: Sep. 20, 2023 at 3:06 PM CDT
KANSAS CITY, Mo. (KCTV) - Doctors and health experts from across Kansas City recommend getting a COVID-19 vaccine booster as soon as they are available in the metro.
Area health departments say the vaccines are on the way.
The advice comes as COVID hospitalizations begin to slowly tick higher heading into the traditional cold and flu season.
The University of Kansas Health System hosted an online forum that included leaders from seven area hospitals Wednesday. It's the first COVID-19 update from KU Health, involving all of the hospitals, in nine months.
According to data provided by the Centers for Disease Control and Prevention, COVID hospitalizations are up 5% across the country in the past week. While rates are still much lower than previous COVID numbers, doctors are concerned about what's to come in the future weeks and months.
"This is not something we can blow off," Dr. Steve Stites, Chief Medical Officer, University of Kansas Health, said.
Some of the hardest hit by COVID are seniors, according to Stites. Doctors say age and other health concerns make older people at higher risk of getting COVID.
Liberty hospital says it is beginning to see COVID cases return to Northland retirement centers.
"We have had some clusters of cases in some of our nursing homes and long-term care facilities. We have done our best to support them. But the clusters have been small and essentially in a limited scope," Dr. Chakshu Gupta, Chief Medical Officer at Liberty Hospital, said.
Just like in past years infants and people with chronic health conditions are also at an increased risk of COVID.
"So, age, comorbid conditions like diabetes, like heart disease, like lung disease, kidney disease, and of course immunosuppressed patients as well. It seems to really affect them in different ways. Even with vaccination you can still significantly reduce your risk of hospitalization and disease, especially if you are up to date with your vaccination," Dr. Dana Hawkinson, University of Kansas Infectious Disease Specialist, said.
The worst COVID spikes have happened in November, December, and January in past years, according to the doctors involved in Wednesday's meeting. While they hope this year is different, they simply don't know yet.
"I'm hoping with individual and population immunity from vaccination, revaccination, obviously infection, reinfection, will help protect those who otherwise may have been in there and then the population as a whole with having that. Unfortunately we are still seeing those at highest risk, but I'm hoping and being optimistic what we won't see that big pop," Hawkinson said.
The Hospital leaders say they are also beginning to see a higher number of employees out sick with COVID. Influenza and RSV cases are also starting to show up in the Kansas City area.
"Between our hospital and seven outpatient clinics we've had 25 employees test positive and we're seeing an increase in patients both getting tested for COVID as well as testing positive for COVID, and that's throughout the Northland," Gupta said.
"The sliver lining is that the illnesses have been less severe and ICU admissions have been uncommon."
Every health expert involved in Wednesday's meeting says the best thing to do to protect yourself is to have a plan going into winter.
"If you have symptoms test early and if you can get on those oral antivirals especially Paxlovid, that's gonna significantly reduce your chance of going to the hospital as well, Hawkinson said.
The full online forum is available to watch online on the University of Kansas Health System's Facebook page.
Copyright 2023 KCTV. All rights reserved.