FIRST WARN FORECAST: Seasonable in the 70s Wednesday plus new updates to our severe weather activity this weekend
Published: Sep. 20, 2023 at 6:23 AM CDT
KANSAS CITY, Mo. (KCTV) - We continue to deal with two areas of low pressure situated to the northwest and southwest. They have widened the gap between themselves and the Missouri River Valley, which will lessen wet weather chances moving through the rest of the day. That being said, there are still some opportunities for heavy showers to the southeast for this morning, and an isolated risk for showers late this afternoon. We do see a cooler trend with the passage of this wet weather and daytime. Highs are expected to reach into the middle and upper 70s.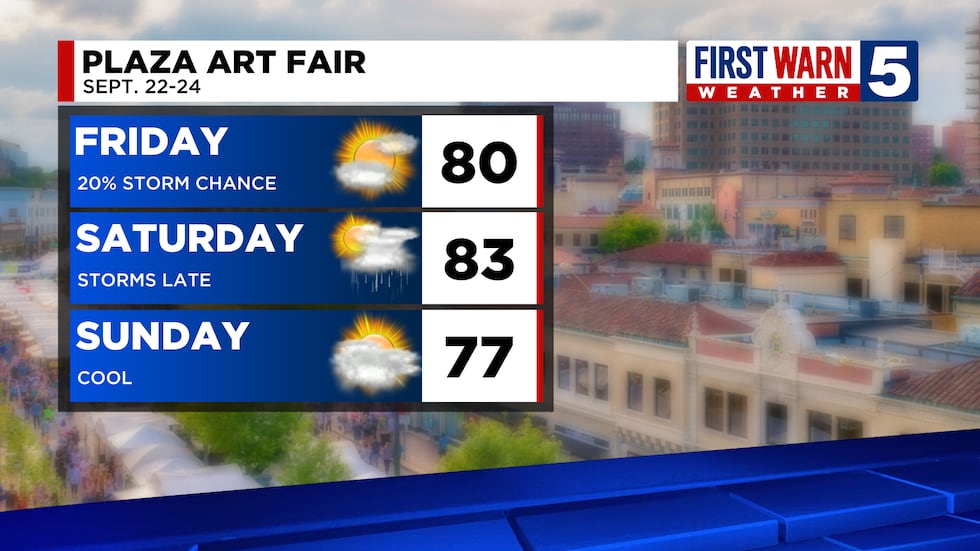 By Friday, we begin to see movement of both areas of low pressure that will track slightly to the north and east. Our models indicate a marginal risk for severe storms to extreme northwestern counties near the Nebraska and Iowa border on Friday. For the rest of us, rain and storm activity will be limited. We do anticipate a quick rebound in temperature moving into the weekend as we approach low pressure and a warm front from the southwest. Saturday afternoon, temperatures are expected within the lower and middle 80s just ahead of the storm system. A few scattered showers and storms are possible through the day, but the main line of storm activity develops towards the early and middle evening. At this time it seems closer to between 6 PM and 9 PM for the start of storms. Damaging wind and hail are more likely at this time but we are not ruling out an increased threat for rotation . Please stay with KCTV5 and the first warn 5 weather team for the latest updates on the storm activity. Remember when we know, you'll know.
What are the wet weather exits? Saturday night into early Sunday morning a dryer pattern will take over with temperatures falling to the lower 70s for the afternoon. Highs to start next week.
To get the latest weather updates sent to your phone, download the KCTV5 Weather app here.
Copyright 2023 KCTV. All rights reserved.