Daughter of BTK speaks out following property search in Park City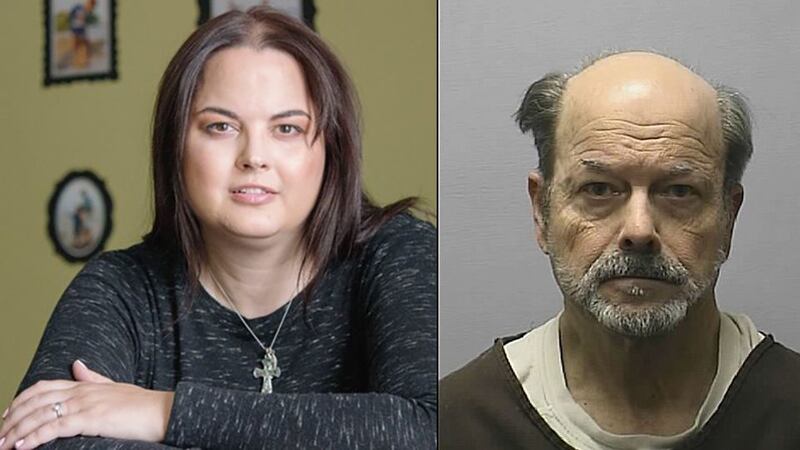 Published: Aug. 23, 2023 at 11:20 AM CDT
WICHITA, Kan. (KWCH) - Kerri Rawson, the daughter of serial killer Dennis Rader, is speaking out a day after law enforcement from Oklahoma could be seen digging on the property of her former childhood home. The home was torn down in 2007. The property now belongs to the City of Park City.
The Osage County, Okla. undersheriff confirmed to 12 News that investigators were in the area trying to determine if Rader, aka BTK, had ties to any of its unsolved murder or missing person cases, but they would not discuss specifics.
In a statement posted to social media on Wednesday, Rawson said just this year, she became aware of an investigation out of Osage County involving the 1976 disappearance of 16-year-old Cynthia Kinney, from Pawhuska, Oklahoma.
August 22, 2023, I became aware that Osage County Sheriff's Office investigators from Oklahoma & Kansas Bureau of Investigation agents, assisted by the Park City Police Department, were at the Park City, KS site where my childhood home originally stood working active investigations into possible missing persons and unsolved murder cases allegedly tied to my father, Dennis Rader, the BTK Serial Killer. These cases predate his arrest on February 25, 2005.
In January 2023, I became aware of the missing person case of Cynthia 'Cyndi' Dawn Kinney, a 16-year-old cheerleader who disappeared from a laundromat on June 23, 1976, in Pawhuska, Oklahoma.
In June 2023, I became aware of the unsolved murder case of Shawna Garber, whose remains were found near Pineville, MO, in December 1990. In June 2023, I contacted the McDonald County Sheriff's Office in Missouri to offer my volunteer assistance on the Garber case.
I was quickly connected with the Osage County SO, to which I offered the same aid, and was promptly flown to Osage County, OK, to assist on both cases.
I've returned since to the Osage County SO to work in a volunteer capacity as an active agent of LE, assisting on these two cases. Including visiting my father twice at the El Dorado Correctional Facility.
My March 2021 "Do Not Contact Order" was legally lifted via assistance from EDCF, the Kansas Department of Corrections, & the KS Governor's office.
Beyond these two cases that have been released publicly, I'm not at liberty to discuss other possible missing persons and unsolved murder cases that are being actively investigated as possibly committed by my father, nor can I comment on my direct assistance in the investigations.
Multiple LE agencies are seeking long-sought answers in decades-old missing persons & unsolved murder cases in the tri-state area of KS, MO, & OK. And possibly locations that extend beyond the tri-state area.
This past spring, federal transaction immunity was offered to my father in the tri-state area by a federal district attorney's office to give my father a chance to confess to any other violent crimes he may have committed from roughly 1963-2005 giving decades-long grieving families long-sought answers, and in return, my father would not be charged in these cases.
At this time, all avenues of justice remain open, and investigations are ongoing.
I want to thank the following LE partners: Osage County SO, who have embraced me like family; McDonald County SO, Wichita PD, Park City PD, KBI, FBI, EDCF, KDOC, the office of the Kansas Governor, and all other local, state and federal partners that are seeking answers and Justice.
I hope that inner agency cooperation continues at a steady pace and that a tri-state or beyond, cold case BTK task force be formed by these agencies to fund and power these vital ongoing tasks.
I will continue to partner closely and heartily support all LE agencies and offer my volunteer assistance.
Together, daily, we can make a difference.
Let's keep working together to solve these cases for these families. They deserve all that we can give them.
We can join together to put our mark on modern inter-agency cooperation and modern forensics.
Kerri Rawson, daughter of Dennis Rader, the BTK Serial Killer
Copyright 2023 KWCH. All rights reserved. To report a correction or typo, please email news@kwch.com