Spotless giraffe born at Tennessee zoo believed to be the only one in the world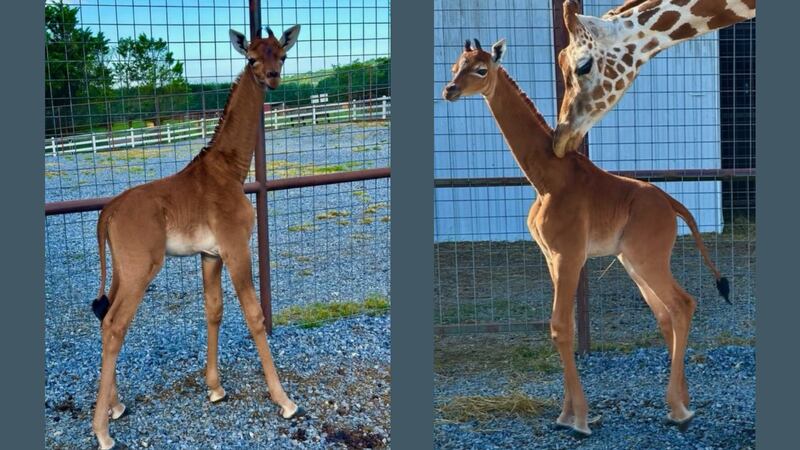 Published: Aug. 22, 2023 at 11:38 AM CDT
LIMESTONE, Tenn. (Gray News/TMX) – A baby giraffe born without spots at a Tennessee zoo is believed to be the only one of her kind in the world, zoo officials said.
The "world's rarest" giraffe was born at Bright's Zoo in Limestone on July 31.
The baby girl was born solid brown. Giraffe experts at the zoo said they believe she is the "only solid-colored reticulated giraffe living anywhere on the planet."
The calf already stands 6 feet tall and is now available for the public to see at the zoo.
Zookeepers said the calf is thriving under the care of her attentive mother.
The zoo is now asking for the public's help to name the baby giraffe. They have narrowed it down to four names:
Kipekee, meaning "unique"

Firyali, meaning "unusual or extraordinary"

Shakiri, meaning "she is most beautiful"

Jamella, meaning "one of great beauty"
The zoo is holding a contest on its Facebook page for users to vote for their favorite name. The poll will run until Labor Day, when the zoo will then choose the name with the most votes.
Tony Bright, founder of Bright's Zoo, said this special giraffe's birth is remarkable for many reasons, but most importantly, she will help bring attention to the serious challenges the rest of her species face in the wild.
"The international coverage of our patternless baby giraffe has created a much-needed spotlight on giraffe conservation. Wild populations are silently slipping into extinction, with 40% of the wild giraffe population lost in just the last three decades," Bright said.
Bright's Zoo said it is actively trying to save giraffes through their successful breeding program and by donating to organizations like Save Giraffes Now, working in Africa to preserve the species.
Bright's Zoo is a USDA-licensed, private institution, accredited by the Zoological Association of America.
Limestone is located in the northeastern corner of Tennessee, nearing the North Carolina border.
Copyright 2023 Gray Media Group, Inc. All rights reserved. TMX contributed to this report.