Jones posts cryptic Instagram story as holdout continues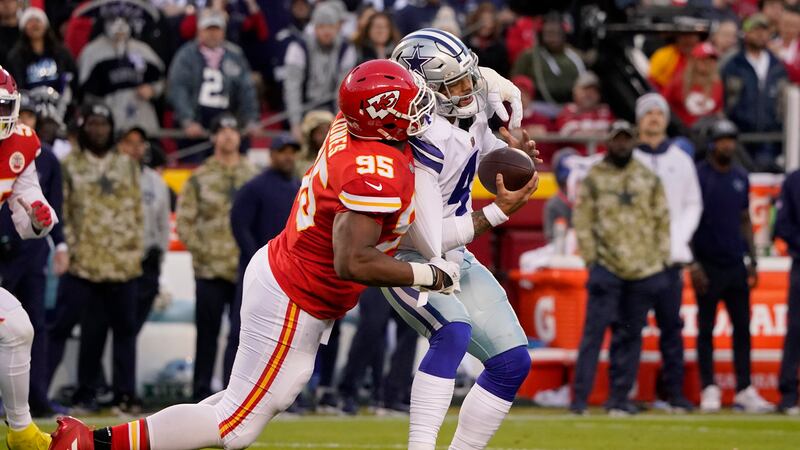 Published: Aug. 3, 2023 at 2:58 PM CDT
KANSAS CITY, Mo. (KCTV) - As Chris Jones continues to hold out from training camp in hopes of a contract extension, the Kansas City Chiefs defensive end alarmed fans Thursday with a cryptic Instagram story.
Jones posted lyrics to rapper Kevin Gates' song 'Walls Talking.'
"Guess all good things must come to an end," were the highlighted lyrics on the Instagram story.
Jones has not appeared at training camp yet. Under the NFL's latest collective bargaining agreement, Jones can be fined $50,000 per absent day. That number has increased from the previous CBA, which had been set at $30,000 per day.
Chiefs quarterback Patrick Mahomes said Wednesday that he's been in communication with Jones, but will not be getting involved with contract talks.
"I talk to Chris, not necessarily about the contract stuff," Mahomes said. "That's how I am about all things, I never talk about the contracts, I just talk about football, and how he's doing. He's working out; he's staying in shape. All of that will handle itself, and all I can do is just be supportive, be a teammate. I mean, that's one of the guys that's been a staple to this organization for a long time, so hopefully we get him back in camp as soon as possible."
ESPN NFL reporter Diana Russini went on the Pat McAfee Show Thursday to share her insights on the situation.
"I had a conversation this morning with someone who is involved in the negotiations and they still feel really optimistic that they're going to get it done," Russini said shortly before noon central time. Jones' Instagram story was posted at 1:51 p.m. "Look, the number Chris Jones wants is a big number. It's a big number.
"But the Chiefs -- every conversation that I've had with them over the last few months has been nothing but understanding his value, understanding his role on this team, 'we want to get this done, we feel good we're going to get this done and we're optimistic.' That's one where it feels a little icky right now but I think it's going to work out by the time we get to the third or fourth week of camp here."
Russini added that the Chiefs did not expect for Jones to hold out of training camp when she spoke to members of the organization at the Chiefs' June ring unveiling ceremony.
On July 24, when Jones did not report for camp, head coach Andy Reid told reporters he was "a bit surprised" at the All-Pro's decision.
"We'll just see how things go here down the road. There had been communication," Reid said. "We'll see where it goes from here. If you're not here, we just keep moving. That's how we roll."
Copyright 2023 KCTV. All rights reserved.