Sign warns of dangers at Cass County crossing where train collided with semi, injured children
Published: Aug. 1, 2023 at 10:57 PM CDT
CASS COUNTY, Mo. (KCTV) — Long after trains began moving along the tracks at E. 187th Street and Holmes Road, a boom was ripping the top of a semi trailer as workers sawed into the side to cut it into pieces small enough to haul off.
The semi truck driver got stuck on the tracks shortly after 4 p.m. Tuesday. A total of six people were in the cab, according to Missouri State Highway Patrol (MSHP). Four of them were children ranging in age from 6 to 13 years old.
Karen Templeton lives just on the other side of the tracks. She saw the truck on the tracks as she was driving home.
"He got out of the cab of the truck to look to see why he was stuck. And I rolled down my window and pulled up next to him," Templeton recounted. "And I said, 'Dude,' I said, 'You got to move this truck,' I said, 'because these trains will come through here and you will be trashed.'"
She'd seen it before. She had photos on her phone from just a few months ago. But this time would be different.
She went inside to tell her husband someone was stuck. When she came back out, she saw the railroad lights flashing. She ran back in to tell her husband something bad was about to happen. She heard the crash. Then, she saw what looked like an entire family come out of the cab, crying and hugging, some of them bleeding.
"I didn't know they were there. I would have said get them out immediately and get them you know, safely away from the tracks," Templeton said. "It's just not common to have your whole family in your truck with you when you're working, you know."
MSHP Cpl. Justin Ewing said the freight train hit the semi right where the cab attached to the trailer, separating the two and spilling the trailer's load, carton after carton of Celsius energy drinks, down the tracks.
"I mean, if they hit directly on the cab, this would probably be a completely different crash investigation," Ewing said.
The point of impact mirrored an image on a diamond-shaped yellow warning sign at the intersection before the tracks to indicate the danger of crossing in a semi.
"There is scraping on the ground from previous trucks as well," remarked Ewing. "These trucks, when they're pulling a trailer, get high centered on the tracks, and sometimes they pull parts of the track up or they get stuck on the hill crest. So, it's a dangerous area for trucks to come through here."
Ewing said it's not uncommon, though, for drivers unfamiliar with the area to just follow their GPS. He urges drivers who don't know their way around to look for danger signs before trying to cross.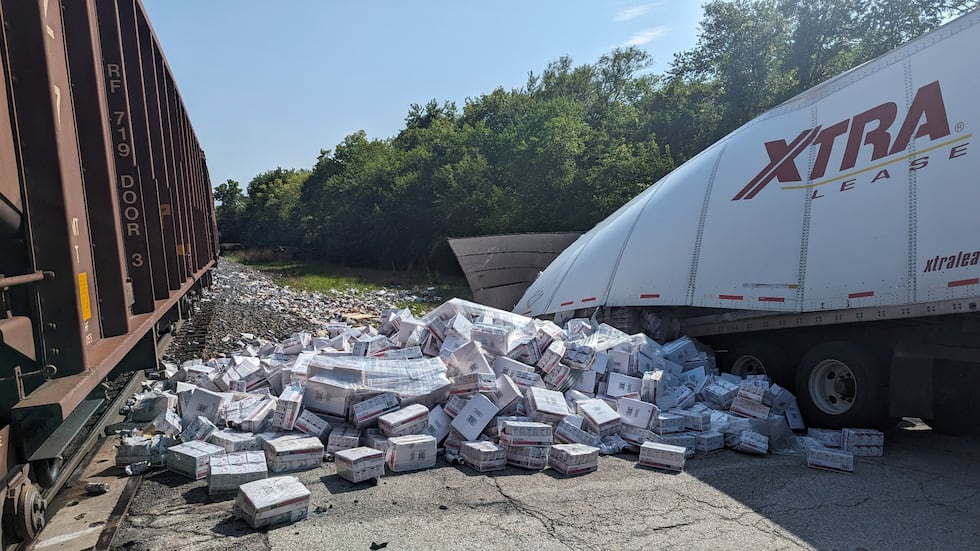 Copyright 2023 KCTV. All rights reserved.