Churchill Downs to resume racing at fall meet with no changes after horse deaths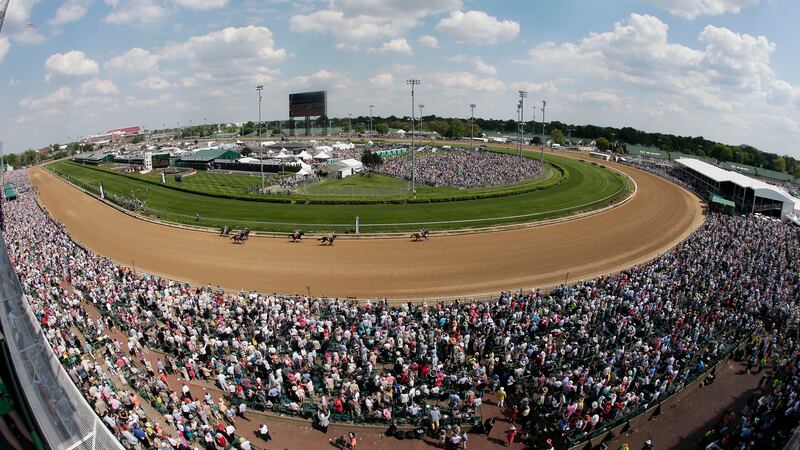 Published: Jul. 28, 2023 at 8:07 PM CDT
LOUISVILLE, Ky. (AP) — Racing will resume at Churchill Downs in September, with no changes being made after a review of surfaces and safety protocols in the wake of 12 horse deaths, including seven in the days leading up to the Kentucky Derby in May.
The Louisville track suspended racing operations on June 7 and moved the rest of its spring meet to Ellis Park in western Kentucky at the recommendation of the Horseracing Integrity and Safety Authority, the sport's national overseer.
Training continued at Churchill Downs during the track's investigation.
Churchill Downs Inc. CEO Bill Carstanjen called the deaths "a series of unfortunate circumstances" and said the review "didn't find anything fundamentally wrong or different about our track from previous years."
"That, in a sense, can sometimes be unsatisfying," he said. "But that's business, and that's sports."
Two of the horse deaths occurred in undercard races on Derby day. Another five died later.
"The takeaway is, the track is very safe," Carstanjen said Thursday on an earnings call with CDI investors.
"What we needed to do was spend some of this time in the interim, while we ran the rest of the (spring) meet at Ellis to just go soup to nuts through every single thing we do at the racetrack. There was nothing that jumped out as an apparent cause of the injuries, of the breakdowns; and, as we went through and rebuilt our processes from the ground up to check everything that we do to make extra sure, we didn't find anything material."
The track's fall meet begins Sept. 14 and runs through Oct. 1.
___
AP sports: https://apnews.com/hub/sports and https://twitter.com/AP_Sports
Copyright 2023 The Associated Press. All rights reserved.