KU, BVNW star Christian Braun sets playoff scoring high in Nuggets Game 3 win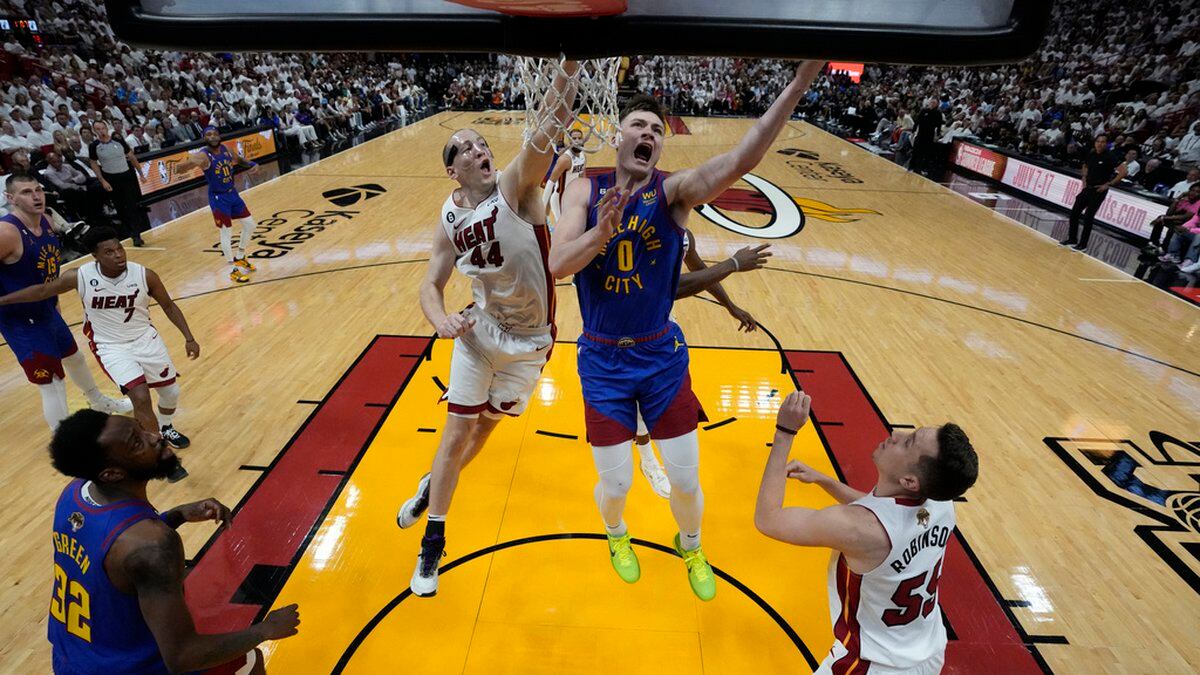 Published: Jun. 8, 2023 at 10:01 AM CDT
MIAMI (KCTV) - In the midst of a historic Game 3 performance from the Denver Nuggets star duo of Nikola Jokic and Jamal Murray, a second-half spurt of play from rookie guard Christian Braun helped the Western Conference champions take control of the series.
Braun, a national champion at Kansas and high school star at Overland Park's Blue Valley Northwest High School, turned in his highest-scoring performance in the NBA Playoffs on Wednesday night. The 6-foot-6 guard scored 15 points in Denver's 109-94 win over the Miami Heat, helping the Nuggets take a 2-1 lead in the 2023 NBA Finals.
"I told him, you won us the game," Jokic said of Braun after the two-time MVP put together a 32-point, 21-rebound, 10-assist performance, the first 30-20-10 game in NBA Finals history. "He's a winner, and he won us the game, with energy, just the focus, the mindset. Even when he makes a mistake, it's an aggressive mistake, so you cannot be mad at him."
A third-quarter stretch saw Braun cut to the rim for a layup, then moments later dart in front of a Heat pass to steal the ball and soar in for a thunderous dunk to give the Nuggets an 82-63 lead. It was all a part of a 7-for-8 shooting performance for the Burlington, Kansas, native.
Braun's performance drew the admiration of his teammates and coaches after he followed up a 6-point, 3-rebound, 3-steal Game 2 with an even better Game 3.
"He's a very rare rookie," Nuggets forward Aaron Gordon said. "From day one he's been on top of it. This is a real winner right here. I say that because he's always been in the right spot. He's in the right place at the right time, and he's been doing that all year, he's been doing that from day one, and nothing changes. He's in the right place at the right time on the biggest stage, and now you guys are getting to see it."
The Nuggets are two wins away from making Braun the fifth player in basketball history to win the NBA Finals in the immediate year after winning the national title in college. Braun, who played all 40 minutes in Kansas' national championship win over North Carolina, downplayed the difficulty of his role as a rookie.
"I can't really fail if I go out there and play hard," said Braun. "They don't expect much from me on the offensive end, but expect me to go out there and give effort on defense, rebound, whatever it is, try to get extra possession for those guys to score. They trust me, and they put me in the right spots, and all I've got to do is lay a ball in and get a steal.
"My job is pretty easy, and those guys make me look pretty good."
Braun became the first Western Conference rookie to score 15 points in an NBA Finals game since Sam Cassell did so in 1994.
"There's not many rookies playing meaningful minutes in the NBA this time of year, and it speaks to Christian's confidence," Nuggets head coach Michael Malone said. "It speaks to him being a winner. He's won at every level: High school, college, and now he's in the NBA Finals as a rookie in the NBA. He just has stayed ready the whole year, mentally, physically, emotionally. That kid never gets too high, never gets too low.
"Tonight, man, I could just feel the confidence kind of oozing out of him."
Copyright 2023 KCTV. All rights reserved.