Kansas men's basketball announces 2023-24 non-conference slate
Jayhawks announce season opener honoring Coach John McLendon against North Carolina Central along with schedule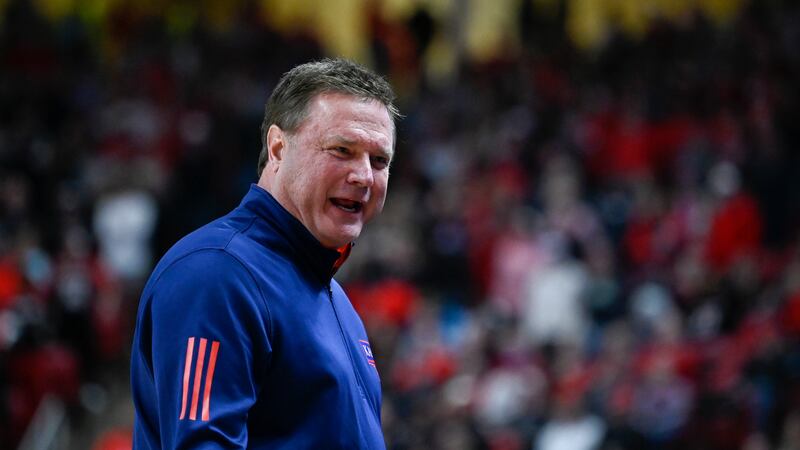 Published: Jun. 5, 2023 at 12:15 PM CDT
KANSAS CITY, Mo. (KCTV) - Kansas men's basketball announced its non-conference schedule Monday morning.
"Once again, our non-conference schedule will be one of the toughest in America, as it has been most years since we've been here. Playing Kentucky in Champions; going to Maui with maybe as loaded of a field as Maui has ever had; coming home and playing Missouri and Connecticut; and going to Indiana are all monster-type games and games that could have national implications," head coach Bill Self said in a statement.
The non-conference schedule is highlighted with a matchup in the Big East-Big 12 Battle on Dec. 1 against the defending national champion Connecticut Huskies at home. Additionally, the Jayhawks will open the regular season on Nov. 6 at Allen Fieldhouse against North Carolina Central, a matchup that celebrates legendary coach and Kansas alum John McLendon, and the McLendon Leadership Initiative.
McLendon, a Kansas native, was a trailblazer in the integration of college basketball and was the first African-American student to earn a degree in physical education from Kansas as he learned under Dr. James Naismith. In 1944 as a part of his coaching stint at North Carolina Central he led efforts in "The Secret Game" which was the first integrated basketball game between an all-Black team under McLendon against an all-Caucasian Duke University Medical School team. The coach has been twice inducted into the Naismith Memorial Basketball Hall of Fame, he passed in 1999.
The McLendon Foundation provides opportunities via scholarships and post-graduate internships for minorities that are choosing to pursue careers in college or professional athletics. Bill Self is an ambassador for the foundation and has supported multiple McLendon Feature Leaders in the past two academic years.
"We're excited to open up the season against North Carolina Central, in large part because that is part of the McClendon Foundation Leadership initiative. With it, we get an opportunity to honor one of the greatest coaches our sport has ever known, John McClendon, in our building playing an HBCU institution." Self added in a statement anticipating the matchup.
There is still a game to be added to the following schedule.
Kansas Men's Basketball 2023-24 Schedule
Nov. 1 (Wed.) vs. Fort Hays State (Exhibition)

Nov. 6 (Mon.) vs. North Carolina Central

Nov. 10 (Fri.) vs. Manhattan College

Nov. 14 (Tues.) vs. Kentucky (Champions Classic in Chicago)

Nov. 20-22 (Mon.-Wed.) – Maui Jim Maui Invitational in Lahaina, Hawaii (Kansas, Chaminade, Gonzaga, Marquette, Purdue, Syracuse, Tennessee, UCLA)

Nov. 28 (Tues.) vs. Eastern Illinois

Dec. 1 (Fri.) vs. Connecticut (Big EAST-Big 12 Battle)

Dec. 5 (Tues.) vs. Kansas City

Dec. 9 (Sat.) vs. Missouri

Dec. 16 (Sat.) at Indiana

Dec. 22 (Fri.) vs. Yale
Season tickets for all Kansas home games can be purchased here as of Monday and more information on Student Combo Passes can be found here.
Copyright 2023 KCTV. All rights reserved.