Franklin County man added to FBI's Ten Most Wanted Fugitives
FBI is offering a $250,000 award for information that leads to the arrest of Donald E. Fields II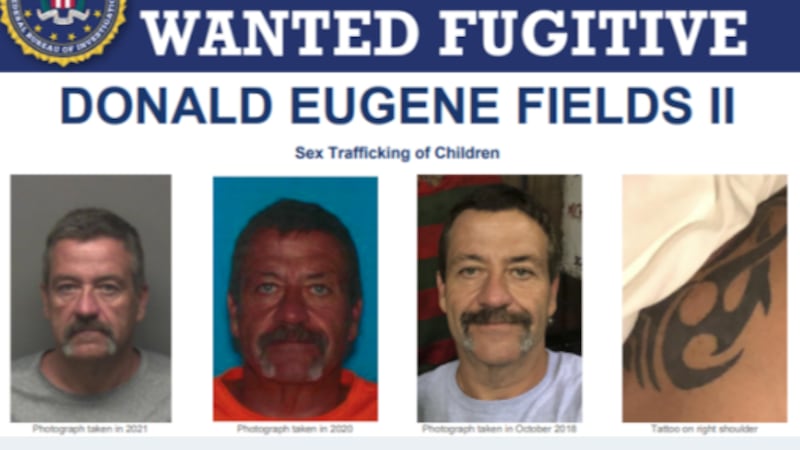 Published: May. 25, 2023 at 12:00 PM CDT
|
Updated: May. 25, 2023 at 12:43 PM CDT
ST. LOUIS, Mo. (KMOV) - A Franklin County man has been added to the FBI's Ten Most Wanted Fugitives list.
Donald E. Fields II, 59, is wanted on child sex trafficking and child rape charges in both state and federal court. As of July 11, Fields is still on the run.
Fields was indicted on one count of child sex trafficking in the U.S. District Court in St. Louis on Dec. 7, 2022. Fields had a co-defendant, Theodore J. Sartori Sr., 62, indicted on the same charge. Sartori was arrested and pleaded not guilty in December 2022.
Both men are accused of knowingly attempting to recruit, entice, provide, patronize and solicit a minor in a sex act from January 2013 until June 2017.
"The victims deserve justice, and that's why we're asking the community and the citizens across the country because we have no idea right now where Mr. Fields is," said Franklin County Sheriff Steve Pelton.
In a December 2022 court hearing, Assistant U.S. Attorney Dianna Collins accused Sartori of giving Fields cash, cars, motorcycles, vacations and Christmas presents in exchange for access to the victim.
Fields also faces 15 charges in the Franklin County Circuit Court, which include statutory rape, statutory sodomy, child molestation, sexual misconduct and witness tampering.
A warrant was issued against Fields from the Franklin County Circuit Court after he failed to show up to a March 2022 hearing and left his home, according to court records.
"He has connections in Phelps County as well, Indiana, [and] Kentucky," said FBI Special Agent in Charge Jay Greenberg. "He's been known to travel to Florida, and he's been known to make statements that he will travel to Mexico or beyond. So again, any tips leading to his arrest or capture will qualify for up to $250,000 dollars. He is to be considered armed and dangerous."
Greenberg says it is very rare to see a criminal from the Metro on the top 10 most wanted list.
"The last individual we had on the list dates back almost 60 years. That person was on the list in the 1960s for about one month before a tip from the public led to his capture in Virginia," said Greenberg. "There's really two criteria to be added to the list. First is we have to articulate that they represent a substantial danger to the public, which we easily did with the allegations we have about Mr. Fields II, and the second is that we have to believe that it is likely with your help and the American public's help that this person can be brought to justice. "
A Phelps County woman is believed to be in a romantic relationship with and could be hiding out with Fields. Jennifer Isgriggs, who also goes by Jennifer Fields, is wanted by Phelps County on a felony warrant for failure to pay child support. Anyone with information on Isgriggs is asked to call the Phelps County Prosecuting attorney at 573-458-6170 or the FBI.
"I think that cases, specifically around human trafficking, they happen way more than people know about," said Katie Dalton.
Dalton is the Executive Director of the Crime Victim Center, a St. Louis nonprofit organization dedicated to empowering crime victims to resiliency. They often deal with victims of domestic violence and sex trafficking.
"Knowing that there's somebody on the top 10 most wanted list is pretty significant. Victims could potentially be feeling more empowered by this. At the other end it could also trigger people knowing that they've experienced something similar to that," said Dalton.
For those that are feeling triggered or affected by cases like this one, Dalton says there are a number of resources that could help.
"I would assume that there could be more victims along with this case that we know about. I think that's pretty common in human trafficking cases is that there tends to be more victims that are not identified as victims," said Dalton.
The FBI is asking anyone with information about Fields to call 1-800-225-5325 or visit the FBI website. An award for up to $250,000 is being offered for information that leads to Fields' arrest.
Here are some resources that could help those undergoing concerns related to sex trafficking and domestic violence:
YWCA
They have a 24/7 Helpline 314-531-7273
All services are free of charge, which includes a drop in center and group therapy for survivors of sexual and domestic violence.
Crime Victim Center
Resources can be found on their website.
Copyright 2023 KMOV. All rights reserved.