Jackson Mahomes grabbed victim by throat, kissed her without consent: court document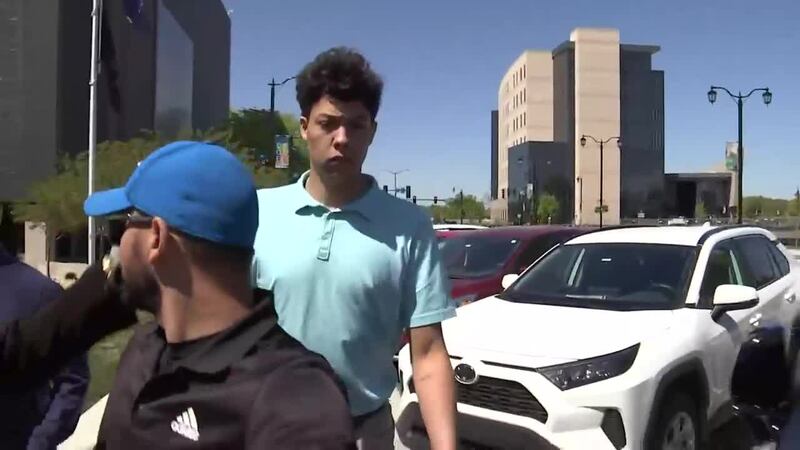 Published: May. 15, 2023 at 2:56 PM CDT
KANSAS CITY, Mo. (KCTV) - Court records alleged social media influencer Jackson Mahomes grabbed a woman by the throat, forced her head back and kissed her three times, resulting in him being charged with aggravated sexual battery.
A probable cause affidavit filed in the case detailed the circumstances surrounding the younger brother of the Kansas City Chiefs quarterback and an incident that ultimately led to his arrest.
The document stated that law enforcement had responded to Aspen's Restaurant and Lounge on Feb. 25, and they learned that Mahomes was accused of pushing an employee of the business after the worker had tried coming into an office that Mahomes had occupied. The employee told police he had tried to retrieve a water bottle from the office, and Mahomes pushed him in the chest, telling him to leave.
Law enforcement indicated Mahomes tried to apologize to the worker later, "but also told him that he shouldn't have to tell [redacted] twice to leave a room and that if he is in the room in the restaurant, it is off limits," the document stated.
Police also spoke with the restaurant's owner, who relayed that she had issues with Mahomes before and had to kick him out of the establishment. She then detailed that Mahomes had gone into her office, closed the door and three times "grabbed her by the throat, forcing her head back and kissed her and put his tongue in her mouth," the court record alleged.
When the restaurant owner told two servers what took place, she showed them her neck where there was a visible sign of a recent injury, witnesses confirmed to investigators.
Mahomes was charged with three felony counts of aggravated sexual battery and a fourth misdemeanor count of battery. He was booked into the Johnson County Detention Center on a $100,000 bond on May 3 and bonded out hours later.
Judge Thomas Sutherland has prohibited Mahomes and his legal team from publicly addressing the charges.
Mahomes has been ordered to appear in person for his next court appearance Tuesday afternoon.
Copyright 2023 KCTV. All rights reserved.