Five Star Painting Helps You Choose the Best Paint Color for a Kitchen with Dark Cabinets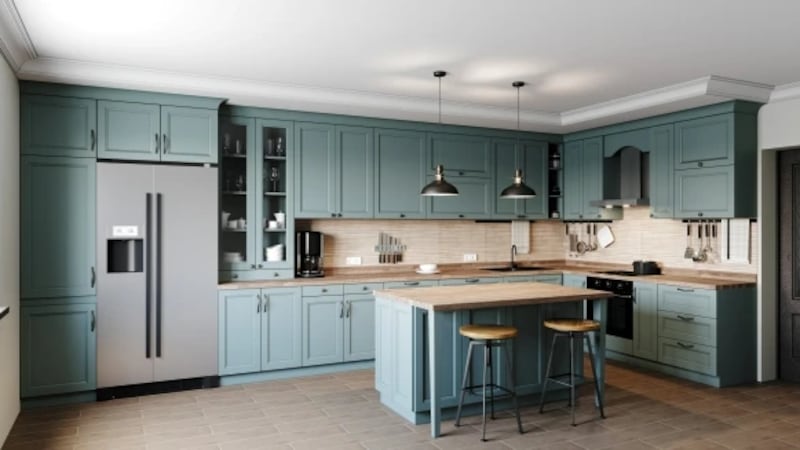 Published: Apr. 12, 2023 at 3:28 PM CDT
A fresh color on your kitchen walls can transform the entire space by giving it a new look and feel. However, choosing the wrong color or colors can make the space appear smaller or dingy. If your kitchen has dark kitchen cabinets, make them an asset by selecting paint colors that accent them while giving your kitchen an improved dimension. In this article we'll review the best paint colors for a kitchen with dark cabinets and how you can use them to expand a small kitchen visually.
Paint Colors That Go Well with Dark Wood
In some cases, you may want to repaint the cabinets or refinish them to create your ideal aesthetic. Repainting cabinets is a great way to give your kitchen a new look without the added expense that comes with replacing your existing cabinets. But what paint color goes well with dark wood? We're glad you asked.
Here are our favorite wall paint hues to complement dark kitchen cabinets:
Related Topic: Best Color Schemes for Your Kitchen
What If I Have a Small Kitchen?
Choosing the right paint color for a small kitchen with dark cabinets can be tricky. Do you go full white to get as much light reflection as possible? While maximizing light and perception of space are important, it could backfire in a small kitchen.
Here are some tips to keep your kitchen from visually shrinking:
Match the paint with the tone in the cabinets to minimize contrast. Going too light against dark cabinets creates visual lines that will emphasize the size of the kitchen and may make it look smaller than it is.

Use the same color for walls and trim to elongate the wall and make the ceilings appear taller. The visual illusion works because there is not a distinct line to catch the eye on the trim.

Avoid cool white. Shades like warm white or ivory can look welcoming in the kitchen, but cool white can make the space look dingy.
Freshen Up Your Kitchen Colors with Professional Painters
Renovating the kitchen, or simply adding a fresh color, can transform the look and feel of the entire space. To give your kitchen the dimension it deserves, incorporate your dark cabinets into your kitchen aesthetic and choose paint colors that enhance them instead of hiding them.
Once you've discovered the perfect color scheme for your kitchen, trust your local Five Star Painting pros for expert application. Our kitchen painting services cover the entire kitchen, including painting cabinets and refinishing them, if needed. To get started, give us a call at (866) 423-2951 or schedule an estimate online today.
Copyright 2023 KCTV. All rights reserved.