FORECAST: Tornado Watch issued for several northern Missouri counties
Published: Apr. 4, 2023 at 7:44 AM CDT
|
Updated: Apr. 4, 2023 at 3:31 PM CDT
Tornado Watch issued for area northeast of Kansas City, Missouri, until 10 p.m. | I am tracking a severe thunderstorm threat for overnight tonight as an area of low pressure develops and tracks from central Kansas up to Iowa. It's a powerful cold front with elongation across the Missouri River valley. While feeding off extremely warm, moist and unstable air from the south, a severe weather threat impacts the region. Most of our models are now lining up for a line of powerful storms to occur late tonight between the hours of 10 p.m. and midnight and will continue throughout the region until about three or 4 a.m. Wednesday morning. Some of our models indicate that it will begin on the Kansas side of the viewing area.
However, a few models are also mentioning the line of storms developing on the Missouri side, mainly from Bates County stretching up to Mercer County. This time, I would like the entire viewing area to be storm ready. This will be a fast-moving line that creates heavy downpours, frequent lightning, damaging wind, and potentially hail, a diameter of 1 inch or larger. We will have the ingredients for rotation of the atmosphere, which may yield an opportunity for tornadoes. Please make sure that you plan with your family accordingly throughout this morning and into the afternoon, so you are ready for the severe storm threat tonight. The Storm Track 5 Weather Team will be with you the entire time.
We plan to monitor and break into local programming, if necessary, overnight and into early tomorrow morning to keep you informed and safe. Once the storm system passes by Wednesday morning, gusts between 25 and 35 mph will continue throughout the day with temperatures dropping to the lower 50s for afternoon highs. We will then begin a spring lake forecast throughout the weekend into next week. With very little chances for rainfall and lots of sunshine, temperatures will rebound quickly and, by Saturday, highs in the lower 70s will be common.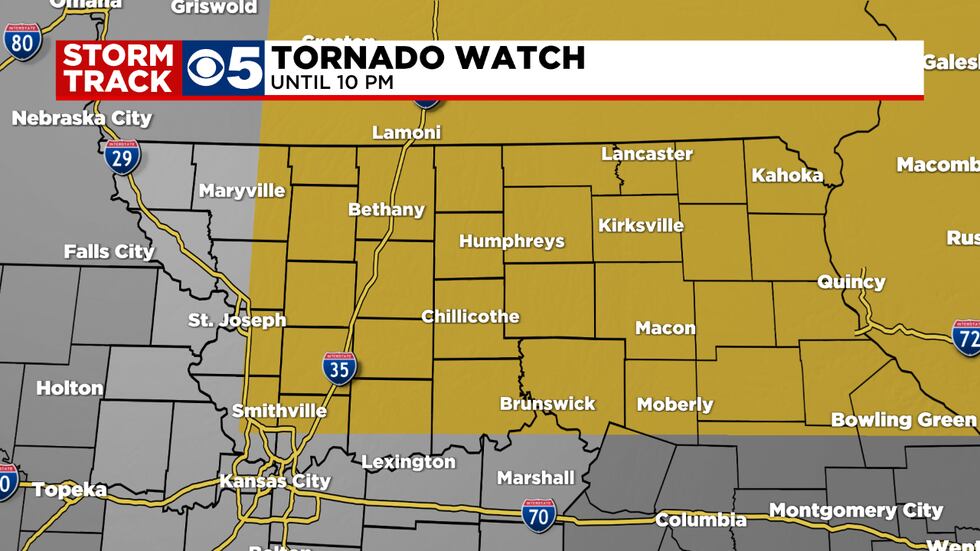 Copyright 2023 KCTV. All rights reserved.