FORECAST: Warm, gusty Opening Day set for Royals fans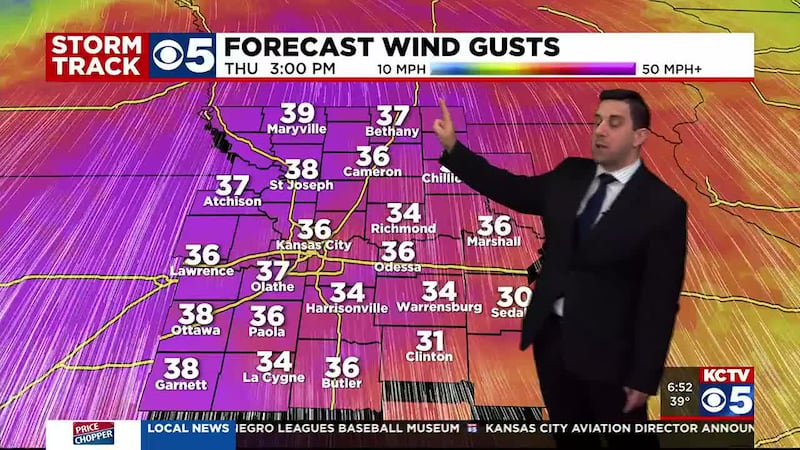 Published: Mar. 30, 2023 at 7:45 AM CDT
High pressure has now moved into the Ohio river valley as a warm front stretches over the Kansas City area. To the west, an area of low pressure organizes, providing a pressure gradient, which brings in the strong wind out of the south. Gusts today can reach up to 45 mph, which is why a wind advisory will be in place starting late this afternoon around 4 p.m. This advisory will extend into Friday with all the severe weather threats and is expected to lift by 7 p.m. As we move into Friday, there's much uncertainty as to the timing of the storm system. Half of our models indicate that we should interact with the cold front as low pressure remains within central Iowa. If this does take place, it's more likely we will see just a few scattered showers and one or two isolated thunderstorms throughout the morning into the early afternoon. However, the other half of the models indicate the storm system doesn't interact with the Missouri river valley until midafternoon.
If this does occur, we will be at our peak instability and warm air. Which allows for a couple of bands of severe storms to impact the eastern side of the city and track throughout Missouri. Much of the viewing area is still under either a slight or enhanced risk of severe storm activity so we ask that everyone remains storm, ready and alert For tomorrow. If the storm threat does occur during the afternoon, afternoon, high temperatures are still expected in the mid 70s. With the passing of the storm system, a quieter but breezy forecast is expected into Saturday as temperatures fall back to the middle 50s. Very quickly temperatures rebound as we produce yet another southerly flow Which allows for breezy conditions on Sunday and high temperatures back into the lower 70s. Scattered showers and weak thunderstorm activity is plausible starting Monday through Wednesday. Temperatures will then drop back to seasonal within the lower 60s.
Copyright 2023 KCTV. All rights reserved.