Mahomes responds to Thursday Night Football scheduling changes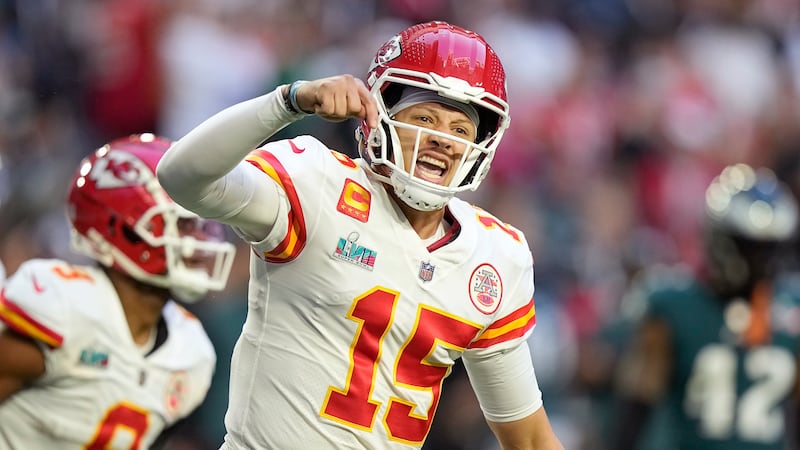 Published: Mar. 29, 2023 at 6:49 AM CDT
KANSAS CITY, Mo. (KCTV) - As front office personnel has gathered in Arizona this week for league meetings, the NFL announced Tuesday that teams can now play more than one "Thursday Night Football" game per season.
Given that Thursday night games provide players with less opportunity for rest and recovery, voices throughout the league provided a less than enthusiastic response to the change. One of the players that provided some opposition to the change was Kansas City Chiefs quarterback Patrick Mahomes.
The two-time Super Bowl champion quote-tweeted a report of the change with a facepalming emoji.
The change comes after the first season of Amazon's television deal with the NFL to broadcast the league's Thursday night package. According to Front Office Sports, Amazon's 11-year deal for the package of games is worth $1 billion annually.
In response to Mahomes' comments, NFL Commissioner Roger Goodell claimed the league has not seen a spike in player injuries during Thursday night games and said the league is not prioritizing Amazon over player health.
"I don't think we're putting Amazon over our players," Goodell said. "The data doesn't show higher injury rate. We recognize shorter weeks. I hear from a lot of players directly who love the 10 days (off) after the game."
Kansas City was chosen as the first game to kick off the 2022 Amazon package, when they hosted the Los Angeles Chargers in Week 2 of this past season. The Chiefs are 4-1 in Thursday night games during Mahomes' time as a starter in KC, but the franchise QB infamously dislocated his kneecap during a Thursday night game in Denver during the 2019 season.
As defending Super Bowl champions, the Chiefs will open the 2023 season with a Thursday night home game in Week 1. That game -- just like their Thursday night opener against the Texans in 2020 -- is not considered to be a part of the Amazon TV package.
Copyright 2023 KCTV. All rights reserved.