Nowell breaks NCAA assist record, KSU beats MSU 98-93 in OT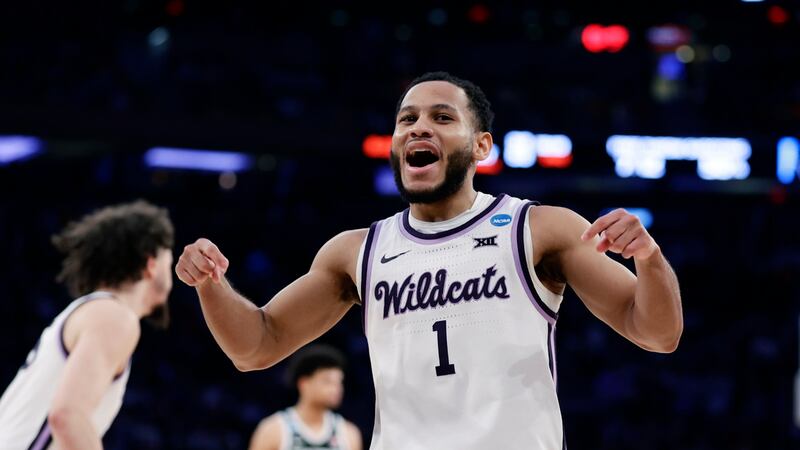 Published: Mar. 23, 2023 at 8:21 PM CDT
NEW YORK (AP) — Markquis Nowell broke the NCAA Tournament record for assists in a game with 19, his last two on spectacular passes in the final minute of overtime, and Kansas State beat Michigan State 98-93 on Thursday night in a Sweet 16 thriller at Madison Square Garden.
Playing in his hometown and fighting through a second-half ankle injury, Nowell found Keyontae Johnson for a reverse alley-oop with 58 seconds left in OT to give the Wildcats (26-9) the lead for good in this back-and-forth East Region semifinal. He then threw an inbound pass to Ismael Massoud, who knocked down a jumper with 15 seconds left for a 96-93 lead.
With Michigan State needing a 3 to tie, Nowell stole the ball from the Spartans' Tyson Walker and drove for a clinching layup at the buzzer. The 5-foot-8, Harlem-raised Nowell finished with 20 points and five steals in a signature performance at basketball's most famous arena.
Johnson scored 22 points for the Wildcats. A.J. Hoggard led Michigan State (21-13) with 25 points.
Previous coverage:
K-State fans attend watch party in Kansas City
Former K-Stater Nijel Pack set for Sweet 16 in KC
Kansas City prepping for arrival of Sweet 16
Copyright 2023 The Associated Press. All rights reserved.