Orlando Brown Jr.: 2022 season was "really hard" playing on franchise tag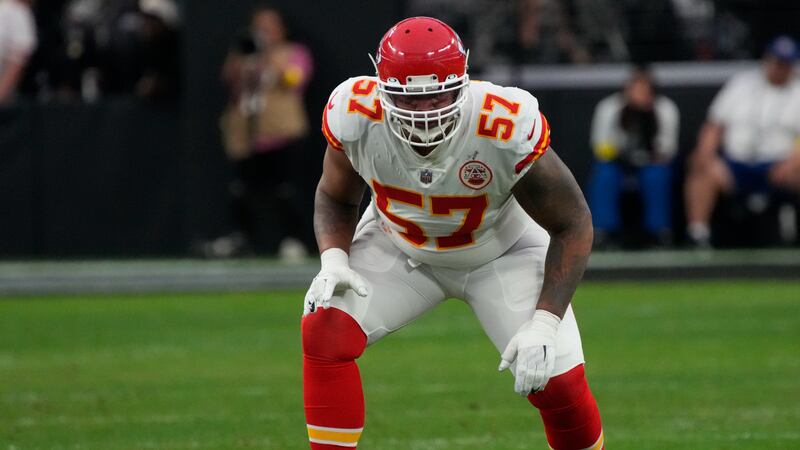 Published: Mar. 21, 2023 at 6:18 AM CDT
KANSAS CITY, Mo. (KCTV) - The Kansas City Chiefs won the Super Bowl last year, but former left tackle Orlando Brown Jr. said the season still presented difficulties for him as he played on the franchise tag.
Brown Jr.'s comments came during an introductory press conference after the 26-year-old signed with the Cincinnati Bengals in free agency.
"Last year was really hard on me just because of the worries of injuries and the worries of maybe not being there long-term or relationships you build in the locker room and around the building," Brown Jr. said. "Those types of things kind of -- they mess with you a little bit. And it didn't necessarily affect my game, but it was definitely something on my mind and heart."
The franchise tag that Brown Jr. played the 2022 season -- during which the Chiefs went 14-3, were the No. 1 seed and won the Super Bowl -- under slotted the Pro Bowl offensive lineman with a salary just under $20 million. He played the season under the franchise tag after declining a reportedly six-year deal worth nearly $139 million according to ESPN's Adam Schefter.
On March 15, Brown Jr. appeared on ESPN's NFL Live and said he believed his job in Kansas City was tougher because of the number of one-on-one matchups he was forced to handle at left tackle.
Kansas City signed former Jacksonville Jaguars offensive tackle Jawaan Taylor to a four-year, $80 million deal.
Copyright 2023 KCTV. All rights reserved.