Kansas head coach Bill Self recovering from heart procedure, misses game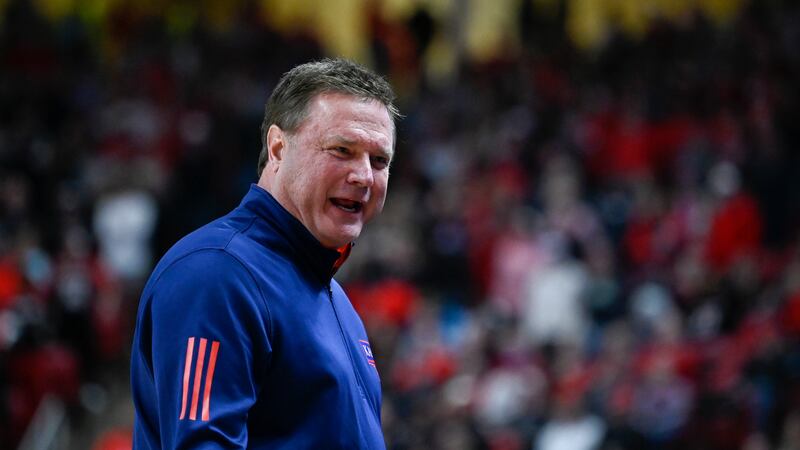 Published: Mar. 16, 2023 at 2:16 PM CDT
DES MOINES, Iowa (AP) — Kansas coach Bill Self is missing the defending national champion Jayhawks' NCAA Tournament first-round game against Howard on Thursday, the school announced two hours before tipoff.
Assistant coach Norm Roberts was serving as acting head coach while Self continues to recover from a heart procedure performed last week.
Self traveled to Des Moines with the Jayhawks and led the team's practice on Wednesday. He did not attend the team's media availability. Roberts said Self had returned to the hotel to rest.
Self's status for a possible second-round game Saturday was unknown.
"I'm doing better," Self said in a pregame interview on the team's radio network. "I'm feeling stronger and everything. I don't think I'm at the point where I could be very good for our team if I was out there."
Self added that he has been watching as much video as he usually does to prepare for games and that Roberts and the rest of the staff have been doing their jobs well.
Self went to the emergency room the night of March 8, shortly after watching the Jayhawks hold a final shootaround ahead of their Big 12 Tournament quarterfinal. He was complaining of chest tightness and concerns with his balance.
Dr. Mark Wiley, the chief of cardiovascular medicine at the University of Kansas Health System, said the 60-year-old Self underwent a standard heart catheterization and had two stents placed to help treat the blocked arteries.
Roberts coached the Jayhawks in the Big 12 Tournament. He also served as acting coach earlier in the season, while Self was serving a school-imposed four-game suspension.
Copyright 2023 The Associated Press. All rights reserved.