No. 25 Mizzou tops No. 17 Tennessee, 1st trip into SEC semis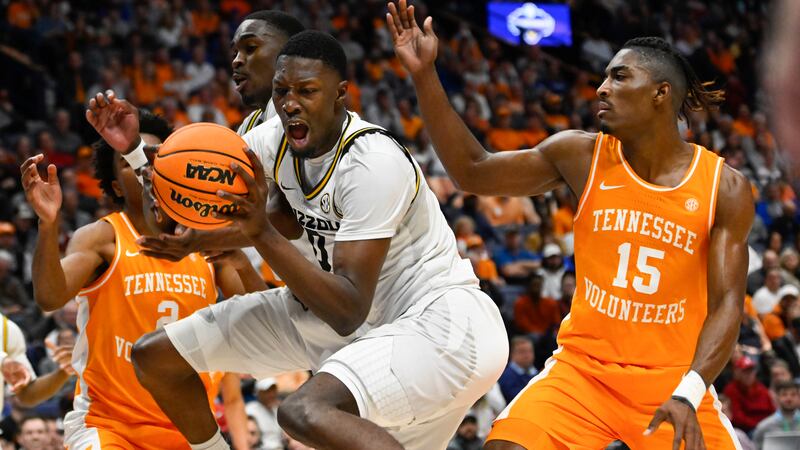 Published: Mar. 10, 2023 at 5:24 PM CST
NASHVILLE, Tenn. (AP) — Nick Honor hit a 3-pointer with 1:45 left to put Missouri ahead to stay, and the 25th-ranked Tigers beat No. 17 Tennessee 79-71 Friday to reach the Southeastern Conference Tournament semifinals for the first time since joining the league.
The Tigers (24-8), who joined the SEC in 2012, will play fourth-ranked Alabama on Saturday. The Crimson Tide, the regular-season champ never trailed in beating Mississippi State 72-49 earlier Friday.
Missouri won its fifth straight this season to snap a three-game skid in the SEC quarterfinals. The Tigers did it by knocking off the defending tourney champ in a taut game featuring 15 ties and 11 lead changes.
The last tie was at 69, and Honor put Missouri ahead to stay with his 3.
The TIgers then forced a turnover on Tennessee's inbound pass by Julian Phillips. D'Moi Hodge knocked down another 3 to give the Tigers their biggest lead of the game at 75-69 with 1:25 remaining. Missouri finished on a 10-2 run for the win.
Hodge led Missouri with 26 points, 17 in the second half. Kobe Brown added 24 and nine rebounds, and DeAndre Gholston had 10.
Tennessee (23-10) snapped a 41-year drought in this event by winning the tourney title in Tampa last year. Now these Volunteers go into the NCAA Tournament having lost four of their last seven overall.
Santiago Vescovi led five Vols in double digits with 17 points. Tyreke Key had 16, Jahmai Mashack 14, Olivier Nkamhoua added 11 points and 10 rebounds and Julian Phillips 10.
Missouri took the lead for the last time on a pair of free throws by Brown with 4:12 left. Tennessee
The Volunteers led 33-30 at halftime thanks to Mashack answering a 3-pointer by Brown with 11 seconds left by beating the buzzer with his own 3. Mashack made it just after crossing the half-court line.
BIG PICTURE
Tennessee has the best defense in all of Division I except against against Missouri. The Vols came in holding opponents to a nation-low 25.8% shooting from 3-point range and 36.4% from the floor. They also had been holding oppnents to an average of 57.4 points a game.
Missouri improved to a perfect 9-0 in games decided by five or fewer points. The Tigers came into the postseason among eight teams unbeaten in such games and the only team with at least eight such wins. ... The Tigers shot 60% (18 of 30) in the second half, and that included knocking down 7 of 13 (58.3%) outside the arc.
UP NEXT
The Volunteers get to wait for the NCAA Tournament bracket announcement Sunday for a seeding that will be lower than expected when Tennessee was ranked as high as No. 2 earlier this season.
Missouri now has a chance to improve its own NCAA seeding while still chasing the program's first SEC Tournament title.
Copyright 2023 The Associated Press. All rights reserved.