Gov. tours special education center, calls on Legislature for full funding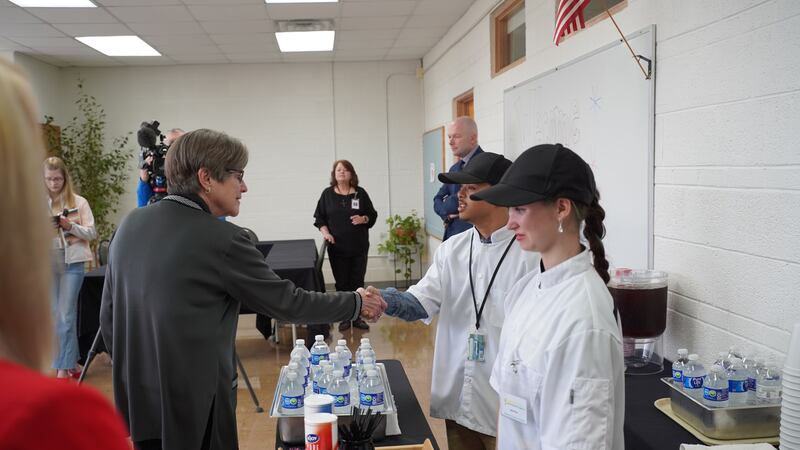 Published: Mar. 9, 2023 at 1:38 PM CST
EL DORADO, Kan. (WIBW) - Governor Kelly took a tour of a special education center in Kansas to highlight the need for fully funding special education in the Sunflower State.
On Thursday, March 9, Kansas Governor Laura Kelly says she visited the Butler County Special Education Interlocal in El Dorado where she saw the facility's vocational program firsthand and met with participants as she discussed the importance of fully funded education in Kansas.
"Every student deserves access to the resources and support they need to thrive both in and out of the classroom," Gov. Kelly said. "Facilities like the Butler County Special Education Interlocal are going above and beyond to provide students with critical learning opportunities and teaching real-life skills to prepare for life after graduation. We must continue ensuring these programs are available for our students by fully funding special education in our public schools."
Kelly noted that her tour of the facility was guided by April Hilyard, Director of Butler Co. Special Education. She visited with three students - Summer Davis, Anthony Loyd and Brandon Strobbe - to listen to their experiences.
"We are honored to have Governor Kelly visit us at Butler County Interlocal to see the impact special education services have on the progress and development of students," Hilyard said. "We believe all students have the capacity for growth regardless of their circumstances. Fully funding special education allows us to invest in our students, invest in our staff, and cultivate an inclusive community where individuals with all ability levels can find success and independence. It is my hope that our state leaders will recognize the benefits fully funding special education can provide not only for students with special education services but for all students, families, educators, and community members. All Kansans benefit when our most vulnerable individuals succeed."
The Governor indicated that nearly 90,000 students in the state are in special education or gifted programs which are state-funded. The special education funding gap impacts every Kansas student. She said she has called on the state legislature to completely fund special education to ensure every student has the same access to resources and the ability to thrive.
Kelly said the Butler Co. Special Education Interlocal serves 9 school districts. Project LIFE provides training for high school students and adult interns for sustainable employment or preparation for individual living accommodations.
Through this program, Kelly indicated that Butler Co. provides performance-based training for special education seniors and 18-21-year-old interns to gain skills in the following areas:
Foodservice and hospitality

Maintenance and custodial

Horticulture and landscaping

Personal social skills and independent living skills

Auto detailing
Copyright 2023 WIBW. All rights reserved.