No. 14 TCU hands No. 2 Kansas worst home loss in 2 years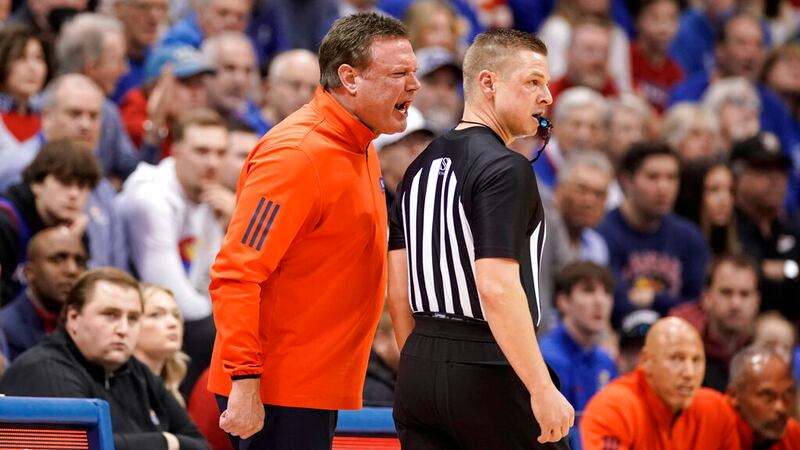 Published: Jan. 22, 2023 at 7:27 AM CST
LAWRENCE, Kan. (AP) — Shahada Wells scored 17 points as No. 14 TCU beat No. 2 Kansas 83-60 on Saturday in one of the worst losses in Bill Self's 20-year coaching career with the Jayhawks.
It was Kansas' second-largest loss at home under Self. The Jayhawks fell 84-59 to Texas on Jan. 2, 2021.
"Obviously it was a great win for our program," TCU coach Jamie Dixon said. "What I'm most proud of (was) how we responded. We didn't play very well the other day (in a 74-65 loss at West Virginia). But we responded.
"I'm really proud of our bench. I don't think I've done a great job of getting them ready. I knew they were good, and we had to get them in their groove."
The loss snapped a 16-game winning streak at home for Kansas. The Jayhawks (15-3, 5-2 Big 12), who lost 83-82 in overtime at Kansas State on Tuesday, had not lost consecutive games in the state since 1989, when it had home losses on Jan. 28 to K-State and on Feb. 1 to Missouri.
"Everything they did was perfect today," Self said of TCU's effort. "They played great. They're so fast and so athletic off the bench. We actually got a ton of good looks in the first half. We missed a lot of layups. We have to be able to defend somebody, and we never defended them today."
Kansas trailed by 10 at halftime and never closed the gap within single digits. TCU extended the lead to as many as 24 points. The Jayhawks shot only 32.1% in the second half.
"We couldn't score," Self said. "We didn't guard very well and the good looks we had we missed."
TCU (15-4, 4-3 Big 12), which shot 54.4% (31 of 57) from the field, got 15 points from Mike Miles Jr. and 11 from Damion Baugh.
"We came off a tough loss at West Virginia where we didn't play hard enough," Miles said. "We knew coming in that to beat a team like KU we had to play harder than them. We did that. We kept our lead and played harder than them."
Jalen Wilson led Kansas with 30 points. He was coming off a career-high 38 on Tuesday against K-State. Kevin McCullar with 10 points was the only other Jayhawk in double figures.
TCU's Eddie Lampkin was hobbled with a left ankle injury suffered late in the first half. A tweet at halftime said he had a ruptured Achilles but a school spokesman later said it was a high ankle sprain. He returned and finished with 8 points and 4 rebounds.
"I don't know all the details, but he obviously played afterwards," Dixon said. "I think he's all right. He'll be sore tomorrow, but he kept telling us he wanted to go back in."
TCU used a 19-0 run early in the first half to open a 33-13 lead, forcing Self to use three of his four timeouts in the first 9:10 of the half. The Horned Frogs hit 13 of their first 15 shots. They finished the half shooting 58.6% (17 of 29).
Kansas trailed by as many as 22 points (37-15) before going on an 11-0 run. The Frogs led 48-38 at halftime, the closest Kansas had been since early in the big TCU run.
Kansas stayed in the game thanks to 21 first-half points by Wilson. He picked up his second foul with 2:13 left in the half. He returned for the final possession and hit a baseline jumper with 5 seconds left.
THE TAKEAWAY
TCU: The Horned Frogs are legitimate contenders in the Big 12. Their athleticism and defensive intensity will keep them in games, but they'll need Lampkin to reach that goal.
Kansas: The Jayhawks will have their hands full if they want to win another Big 12 title. There are no easy victories in this conference, even at Allen Fieldhouse.
UP NEXT
TCU: The Horned Frogs will host Oklahoma on Tuesday night before traveling to Starkville to play Mississippi State in the SEC/Big 12 Challenge next Saturday.
Kansas: The Jayhawks have a matchup with Baylor in Waco, Texas, on Monday before heading to Lexington to face Kentucky in the SEC/Big 12 Challenge next Saturday.
Copyright 2023 The Associated Press. All rights reserved.