Brown, Gholston score 18 each, No. 20 Missouri beats Vandy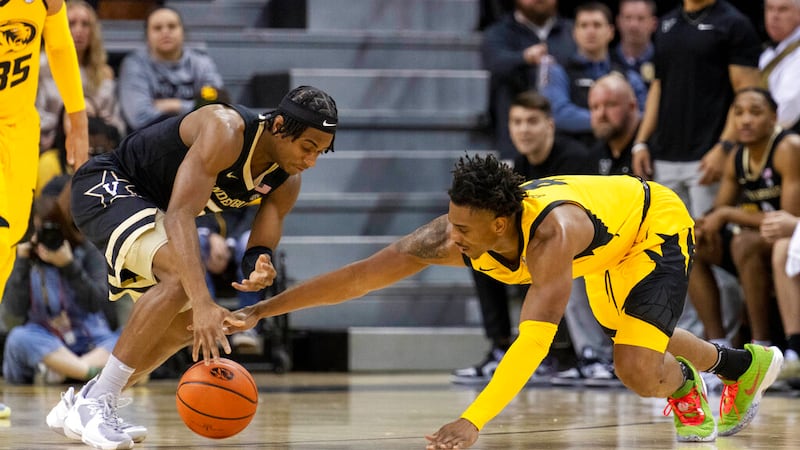 Published: Jan. 8, 2023 at 6:38 AM CST
COLUMBIA, Mo. (AP) — Kobe Brown scored 18 points and grabbed eight rebounds, DeAndre Gholston also scored 18 points and No. 20 Missouri beat Vanderbilt 85-82 Saturday.
D'Moi Hodge also scored 17 points and Noah Carter scored 16 as Missouri (13-2, 2-1 Southeastern Conference) improved to 7-0 all-time at home against Vandy.
"I'm not happy about the end of the first half but I am ecstatic about the end of the second." Missouri coach Dennis Gates said. "To be able to come away with the win, a nip-tuck, and what (Florida State) Coach (Leonard) Hamilton always said, this is an old-fashioned ACC blowout, one-possession game."
Liam Robbins led the Commodores (8-7, 1-1) with 16 points and seven rebounds, and Jordan Wright added 14 points.
With Vandy trailing by three with 32 seconds remaining, Myles Stutes missed a pair of free throws. The Tigers' Sean East II split a pair of foul shots four seconds later to give Missouri a 79-75 lead.
Missouri got the lead — and didn't relinquish it — with 3:09 left on a pair of free throws from Brown, who scored 16 of his points in the second half after playing just six minutes in the first half due to foul trouble.
Vanderbilt outrebounded Missouri 46-27. But Missouri made 27 of 31 (87%) free throws while Vanderbilt converted just 8 of 12 (67%) attempts from the line.
"That's the only way you win close games," Gates said. "To be able to get to the free-throw line and obviously execute in that spot to be able to shoot the percentage that we shot, I think that gives us the confidence. But also, it allowed us to control the last three minutes because our guys were strong with the ball, and we executed."
Carter hit a 3-pointer about 4 minutes into the second half to start a 10-0 run for Missouri that saw the Tigers pull out to a 53-42 lead. Vanderbilt responded with a 17-3 run of its own over the next 4:10 to pull ahead 56-53 with 8:22 remaining in the second half.
The teams were tied at 34 at the half, but Missouri outscored Vanderbilt 51-35 in the second half. The 49 second-half points allowed by Vanderbilt were the most by an opponent this season.
"It's the SEC, and every team's going to be good coming out." Carter said. "We just had to bounce back, persevere through all the runs, because we're going to get every team's best shot. So just hunkering down and getting into our groove is all we needed to do."
BIG PICTURE
Vanderbilt: Has lost its last 16 road matchups against ranked opponents with its last win coming against No. 19 Florida 68-66 on Jan. 21, 2017.
Missouri: The Tigers surpassed last year's total of 12 wins in Gates' first season replacing Cuonzo Martin.
UP NEXT:
Vanderbilt: Faces No. 8 Tennessee in Knoxville on Tuesday night.
Missouri: Travels to College Station, Texas, to face Texas A&M on Wednesday night.
Copyright 2023 The Associated Press. All rights reserved.