Mother responds to Britt Reid's apology on crash that traumatically injured daughter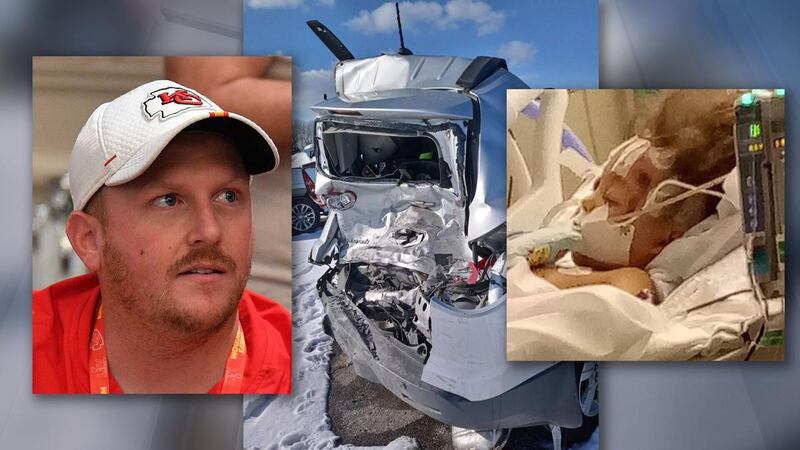 Published: Sep. 7, 2022 at 1:43 PM CDT
|
Updated: Sep. 7, 2022 at 2:57 PM CDT
DISCLAIMER: The story contains graphic language.
KANSAS CITY, Mo. (KCTV) - Ariel's mother is expressing her view on Britt Reid's apology.
She made a public post on Facebook telling Reid to "Shove your 'Sorry' up your ASS.........."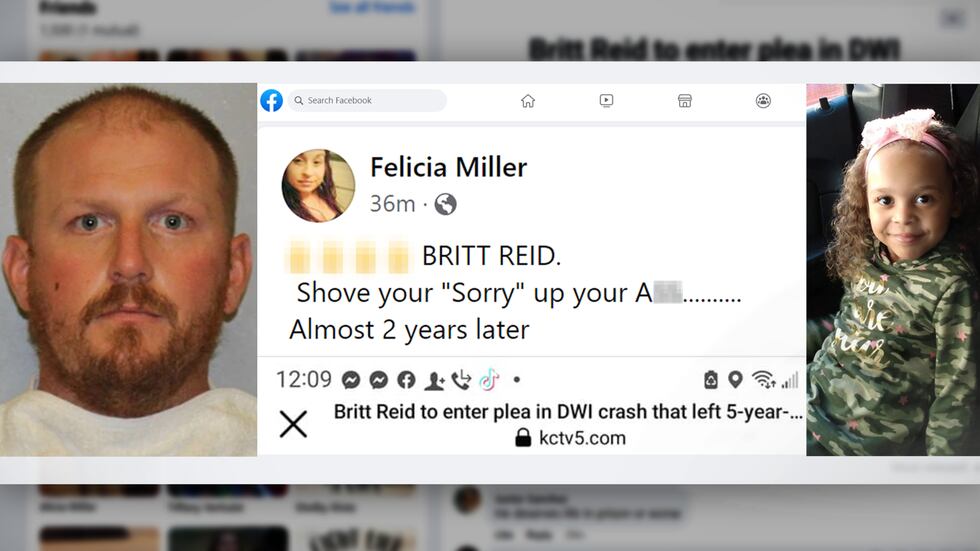 On Tuesday, Britt Reid changed his plea to guilty and released a statement through his attorney:
"Britt Reid intends to enter his plea of guilty to the offense charged. He sincerely regrets his conduct and hopes and prays for the continued recovery for A.Y. Mr. Reid sincerely apologizes to A.Y. and her family, and to his own family. He also extends his deep apologies to the Hunt family, the Chiefs organization and Chiefs Kingdom. Mr. Reid is sorry for his actions and hopes that his plea brings some sense of justice to all those he affected."
Felicia Miller used middle finger emojis as part of her post and then answered questions from her friends below.
Miller is clearly skeptical of the apology and guilty plea, "Yeah they only put that s*** out there to try to make him look better."
Other friends chimed in on the plea questioning if a deal has been cut. It's clear the mom has her suspicions.
"Straight b******* and that's what I keep telling Everybody. If it was the other way around I would have been in jail Without bond," replied Miller.
Britt Reid will enter his guilty plea on Monday, Sept. 12, at 10 a.m. He will likely avoid a criminal trial by entering the plea.
The night of the crash, a Chevrolet Impala ran out of gas near I-435 and Stadium Drive. The driver called a relative, who pulled up to the scene to help. That's when a Ram pickup truck struck both vehicles. Britt Reid was identified as the driver.
Following the crash, an officer reported that Reid smelled of alcohol and his eyes were bloodshot. When asked if he had been drinking, the officer said Reid told him he had 2-3 drinks, and that he was on Adderall. According to court records, the officer conducted several sobriety tests and Reid showed signs of impairment.
Ariel suffered a traumatic brain injury and was hospitalized for weeks. In November, the girl's family and the Chiefs announced they had reached a care plan for the child.
Attorney for the victims in the crash Tom Porto released the following statement Tuesday:
Copyright 2022 KCTV. All rights reserved.