Innocent man moves on with life but questions lack of accountability in his wrongful conviction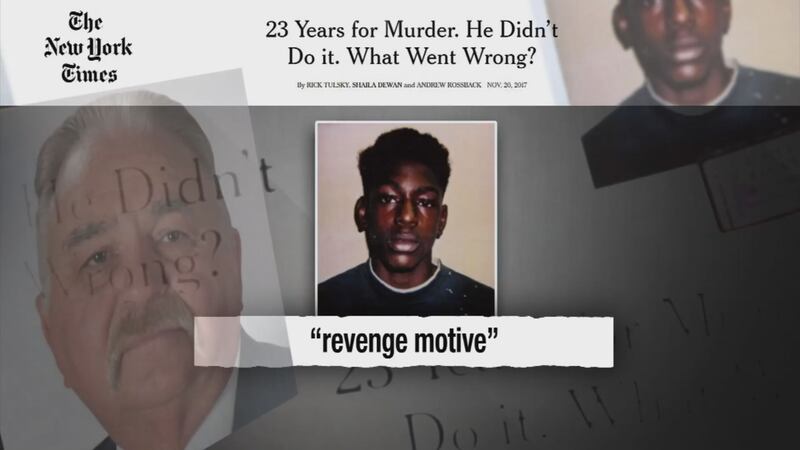 Updated: Jun. 12, 2020 at 9:31 PM CDT
KANSAS CITY, Mo. (KCTV) - Lamonte McIntyre will soon open a barbershop in KCK called "Off the Top."
It's been a dream of his since he was a prison barber, serving time for a double murder he did not commit.
McIntyre was freed more than two years ago. The allegations behind is wrongful conviction were so terrible, it made nationwide news. He spent 23 years in prison despite his innocence.
"I know where I was two and half years ago, I still feel like I'm dreaming somehow," Lamonte McIntyre said.
McIntyre's legal team claims the detective on the case, Roger Golubski, was nothing more than a thug with a badge who ran the streets of KCK.
Golubski was accused in court documents of sexually abusing women and cutting deals with drug dealers in an effort to maintain his power.
Golubski was a powerful figure in the KCKPD. He served for 35 years and became a captain. His former partner, Terry Zeigler, became the police chief.
McIntyre admits he's troubled by the lack of investigation and accountability in his case.
"Things are undone. I can't speak on them. Things still need to be addressed- a lot of accountability to be met. Until that happens, I won't be at peace with that part of my life," Lamonte McIntyre said.
McIntyre recently moved away from KCK. He says it will always be home but he just can't live there given the circumstances.
"I cannot stay away from here. The people supported me. I am who I am and where I am because the community of Wyandotte County supported me, so I would never turn my back. I just don't want to live here because of circumstances," McIntyre said.
Case haunts KCK
McIntyre's case haunts KCK. Recent protests in KCK featured chants of "Black lives matter!"
Speakers remind the crowd of the history and terrible allegations made in the case.
Court documents accuse Golubski of sexually abusing McIntyre's own mother.
And, when she refused to continue to sexually submit, somehow three of her family members ended up in a police lineup in a double murder investigation.
It included pictures of two of her sons and a nephew.
McIntyre would be convicted on a double murder where he didn't even know the victims.
One of the victim's mothers stepped forward to say Golubski was such a creep that when he came to let her know her son had been murdered, he hit on her. Golubski allegedly straight up asked her if she dated white men.
Golubski has refused to publicly answer any questions or address any allegations. KCTV5 has repeatedly reached out to him and his attorneys for comment.
We stopped by his house in June. His car was in the driveway but no one ever came to the front door.
What investigation?
It's tough to see any visible signs of investigation into the serious allegations leveled against Roger Golubski.
It's unclear if Golubski has even been questioned by an outside agency.
At times, authorities say allegations are outside the statute of limitations. At other times, questions are batted away as agencies say they can't comment on an ongoing investigation.
October marks the three-year anniversary of McIntyre's release and allegations were known years before McIntyre's hearing.
The only tangible push for accountability comes from Lamonte McIntyre's legal team.
"The whole situation needs to be opened and exposed to sunlight. We are working very hard to shine light in some pretty dark corners right now," Attorney Cheryl Pilate said. "The community cannot heal until this information comes to the surface."
Pilate has spent a decade investigating allegations which led to McIntyre's wrongful conviction. She remains convinced that McIntyre is not an isolated case.
"Sometimes the truth is not wanted. You see a history where certain people have been targeted. You start digging and you find so many horrific situations. You wonder how far it extends," Pilate said.
Pilate says her office does not believe all officers are corrupt. And it's unfair to broadly paint an entire department with the same brush. She points out officers have assisted in her investigation, which remains ongoing.
"I still hear new things all the time," Pilate said, "You can leave a community deeply scared, traumatized, and untrusting and that's what happened here."
McIntyre's plan for change
McIntyre has started an innocence project called Miracle of Innocence with another wrongfully convicted man. Profits from his new barbershop will help fund that project.
"Everything I'm involved in is tied to the same thing: revenue to get men and women out of prison. It's a good thing," McIntyre said.
To learn more about Miracle of Innocence, click here.
Off the Top Salon is located at 4327 State Ave. The grand opening is Monday, June 15.
To connect with attorney Cheryl Pilate send an email to info@morganpilate.com.
Copyright 2020 KCTV. All rights reserved.