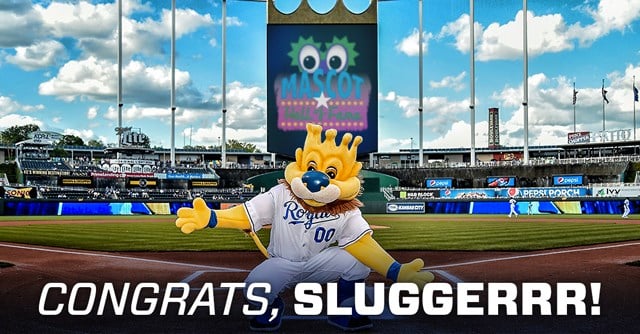 The announcement was made Monday from the home of the Mascot Hall of Fame in Whiting, IN. (Kansas City Royals)
KANSAS CITY, MO (KCTV) -
The Kansas City Royals are excited to announce that the team's official mascot Sluggerrr has been inducted into the Mascot Hall of Fame, along with mascots from three other teams.
The announcement was made Monday from the home of the Mascot Hall of Fame in Whiting, IN.
"I'd like to thank all the Royals fans who helped vote me into the Mascot Hall of Fame, the front-office for supporting my ambitions and everyone involved with the Mascot Hall of Fame for voting me in," Sluggerrr roared. "I take a lot of pride in being one of the mane attractions at Kauffman Stadium. I'd be lion if I said this wasn't one of my proudest moments as the official mascot of the Kansas City Royals."
Sluggerrr has appeared at every Royals home game since April 5, 1996, and makes approximately 500 appearances per year. He is only the fourth Major League Baseball mascot to be inducted into the Mascot Hall of Fame. Others include the Phillie Phanatic, Mr. Met and Slider of the Cleveland Indians.
Other mascots inducted in this year's class are Benny the Bull, of the Chicago Bulls, Tommy Hawk, of the Chicago Blackhawks, and Nittany Lion, of Penn State University.
Sluggerrr was selected for his fun and innovative in-game antics, skits and videos, as well as a new school show program in 2017, which focuses on "Striking Out Bullying" and teamwork skills.
Copyright 2017 KCTV (Meredith Corp.) All rights reserved.