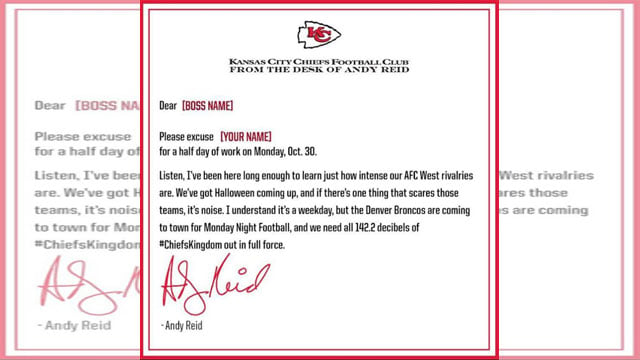 Through a hand-written letter, Chiefs head coach Andy Reid is helping fans get out of work early and bring the noise in the prime-time tilt. (Kansas City Chiefs)
KANSAS CITY, MO (KCTV) -
The Kansas City Chiefs take on the Denver Broncos on Monday Night Football.
Through a hand-written letter, Chiefs head coach Andy Reid is helping fans get out of work early and bring the noise in the prime-time tilt.
In the note, Reid says,"I understand it's a weekday, but the Denver Broncos are coming to town for Monday Night Football, and we need all 142.2 decibels of #ChiefsKingdom out if full force."
Personalize your note here.
Copyright 2017 KCTV (Meredith Corp.) All rights reserved.