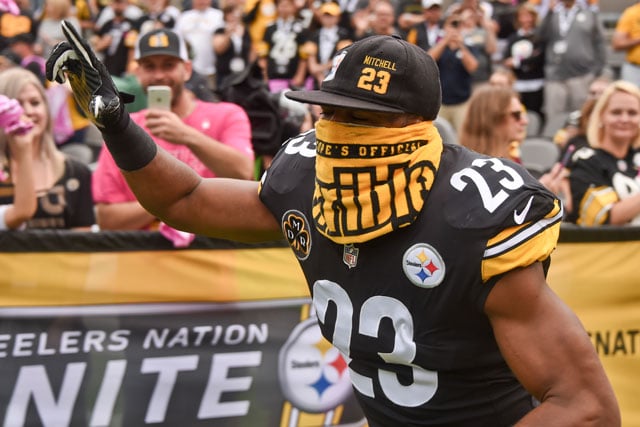 Pittsburgh Steelers free safety Mike Mitchell (23) is introduced before an NFL football game against the Jacksonville Jaguars, Sunday, Oct. 8, 2017, in Pittsburgh. (AP Photo/Fred Vuich)
(AP) -
Pittsburgh safety Mike Mitchell has been fined $57,735 by the NFL for two hits he made in the Steelers' win last Sunday over Kansas City.
Mitchell was docked $48,620 on Friday for a helmet-to-helmet shot to Chiefs running back Charcandrick West that resulted in a concussion. He also was fined $9,115 for hitting quarterback Alex Smith low near the end of the third quarter.
Steelers linebacker Bud Dupree also received a $24,309 fine for roughing the passer.
Also in that game, Pittsburgh running back Le'Veon Bell was docked $12,154 for unsportsmanlike conduct after he used the goal post as a prop during a touchdown celebration.
Minnesota linebacker Anthony Barr was fined $9,115 for head-butting Green Bay's Davante Adams. But Barr wasn't punished for his big hit on Packers quarterback Aaron Rodgers, who was placed on injured reserve with a broken right collarbone.
Copyright 2017 The Associated Press. All rights reserved. This material may not be published, broadcast, rewritten or redistributed.